Starts 01 Jan 2024 - Join me for the 7th annual
30-Day Sketchbook Challenge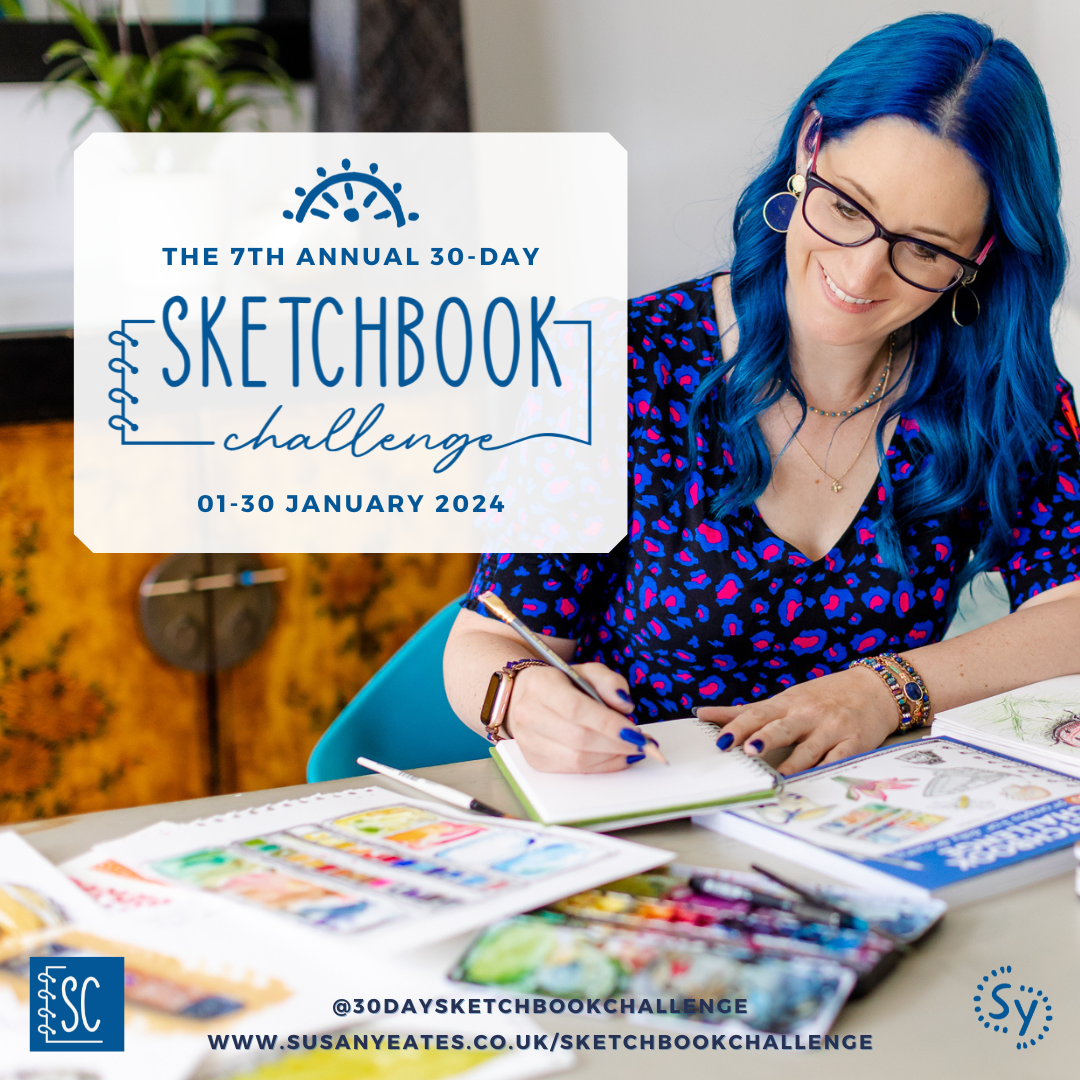 30-Day Sketchbook challenge
About the Challenge
The very first 30-Day Sketchbook Challenge ran in Jan 2018, attracting thousands of people people to draw something in their sketchbooks every day for 30 days. The atmosphere was fantastic and the sheer volume of sketches and doodles overwhelming. It was amazing to see so many people pick up a pencil or pen (including absolute beginners) and just get sketching. No pressure, no judgement – just daily creative fun.
Join today for £17.99 or subscribe to the app for £9.99 per month.
available for apple, android and on desktop
the sketchbook challenge app
Reunite with your inner artist one doodle, scribble and sketch at a time.
If you're curious about sketching, want to start sketching, are keen to get better at sketching, or simply want to meet other sketchers, come and join us for the 30-Day Sketchbook Challenge which is happening inside the Sketchbook Challenge App!
Inside the app you can:
Build a sustainable sketching practice that suits your lifestyle and time available.
Find the confidence to open your sketchbook and sketch for the pure joy of it.
Share your sketches daily to track your progress.
Join the challenge. We sketch together as a community, encouraging each other, one sketch at a time.
Improve your sketching skills and progress at your own pace.
The Sketchbook Challenge App is the perfect way to start and build a positive sketching habit.
You can either join the 30-Day Sketchbook Challenge 2024 for a one-off fee of £17.99 or you can subscribe to the app to be part of our sketching community for a recurring monthly fee of £9.99. Both options include access to the 30-Day Sketchbook Challenge 2024.
Don't just take my word for it
Meet some of the sketchers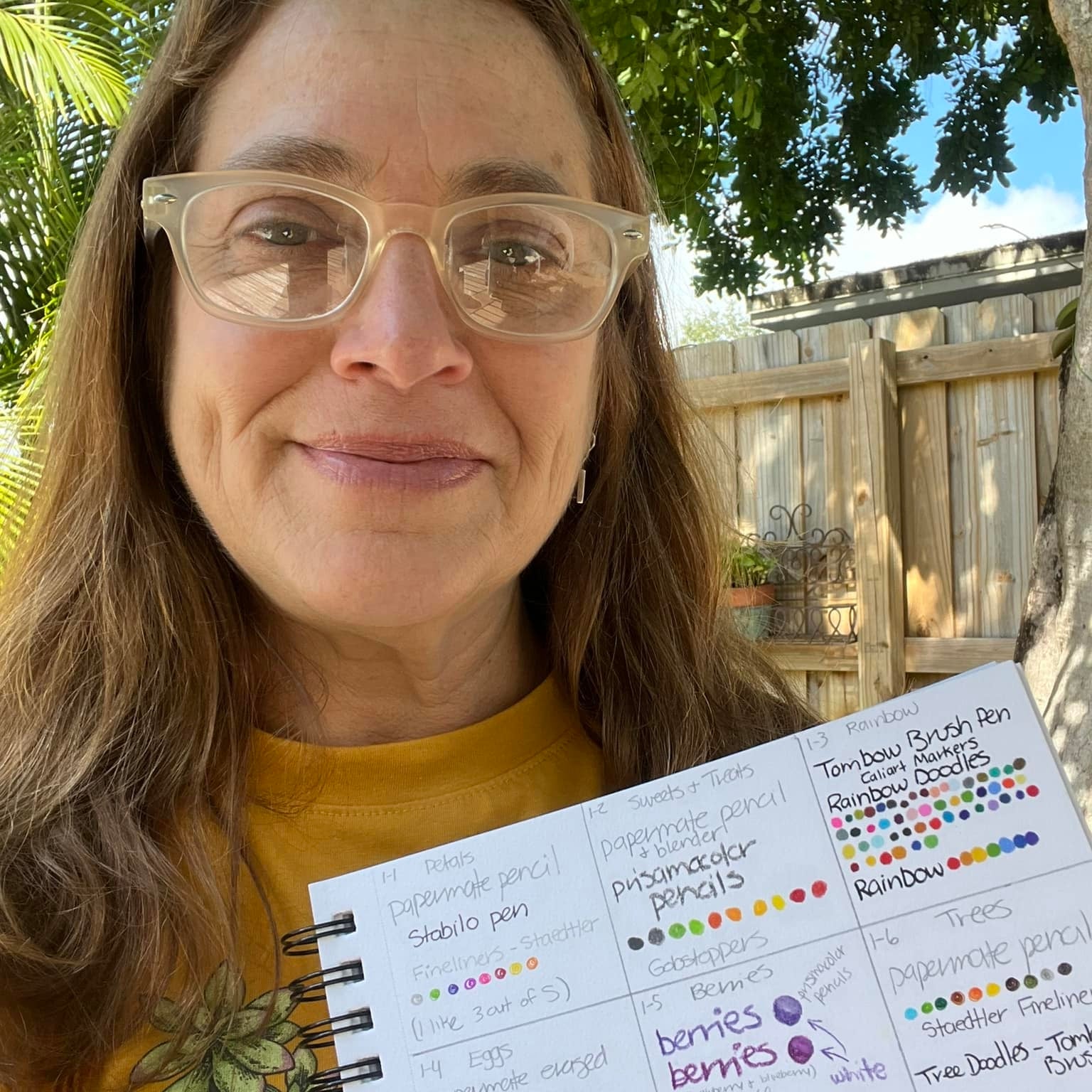 Lisa
"Another great sketchbook challenge in the books (my 3rd)! I'm always in awe of the talent I see here in this group. So much inspiration! Here I am showing the 1st page of my sketchbook. I'm proud to say that I drew every day during the challenge. I didn't get a chance to finish them all so I'll be around... Thank you, Susan!"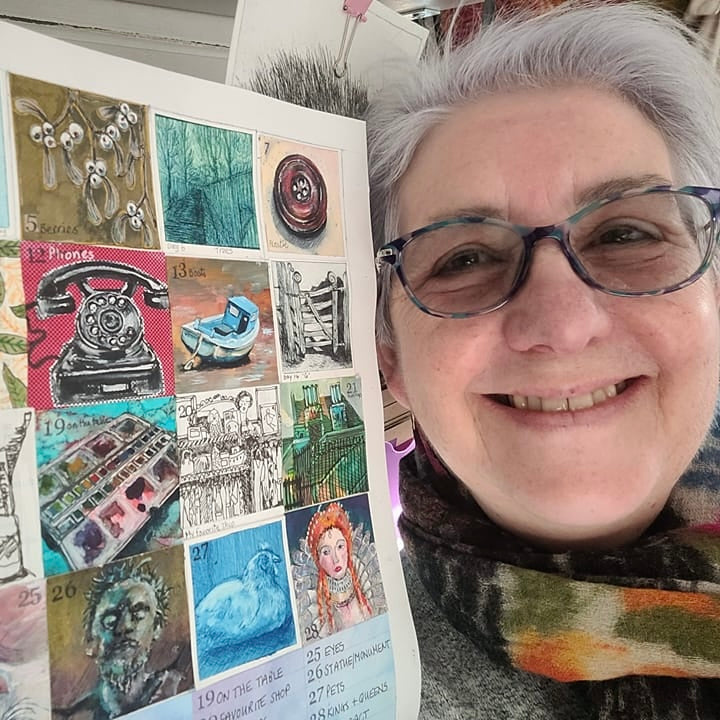 Virginia
"Thanks to Susan Yeates for another excellent sketchbook challenge. Thanks for all the lovely comments it's been great to see everyone's super work."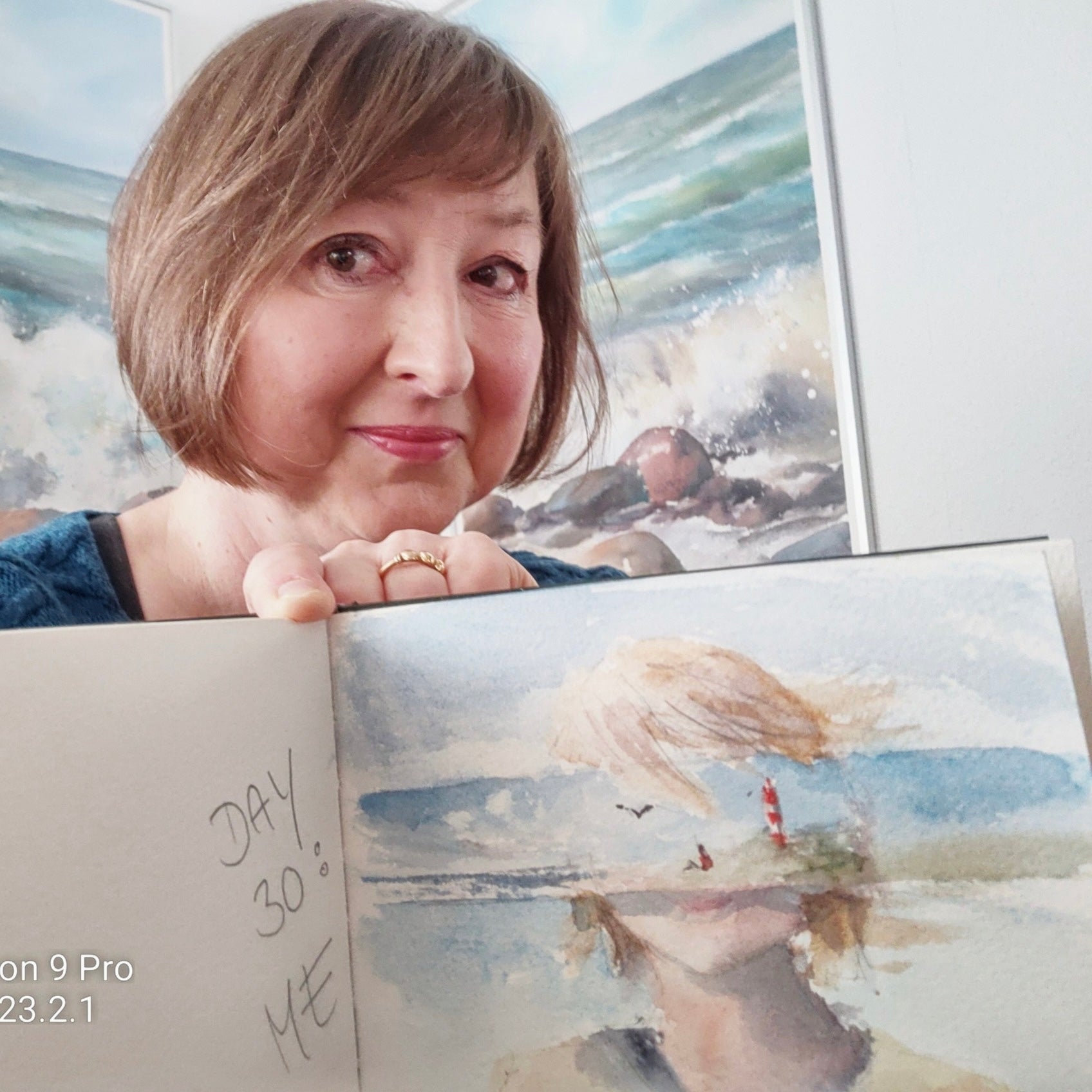 Weibke
"Many thanks for the inspiring sketchbook challenge! I painted many things for the first time and now I have a lot of courage and desire to try new things!"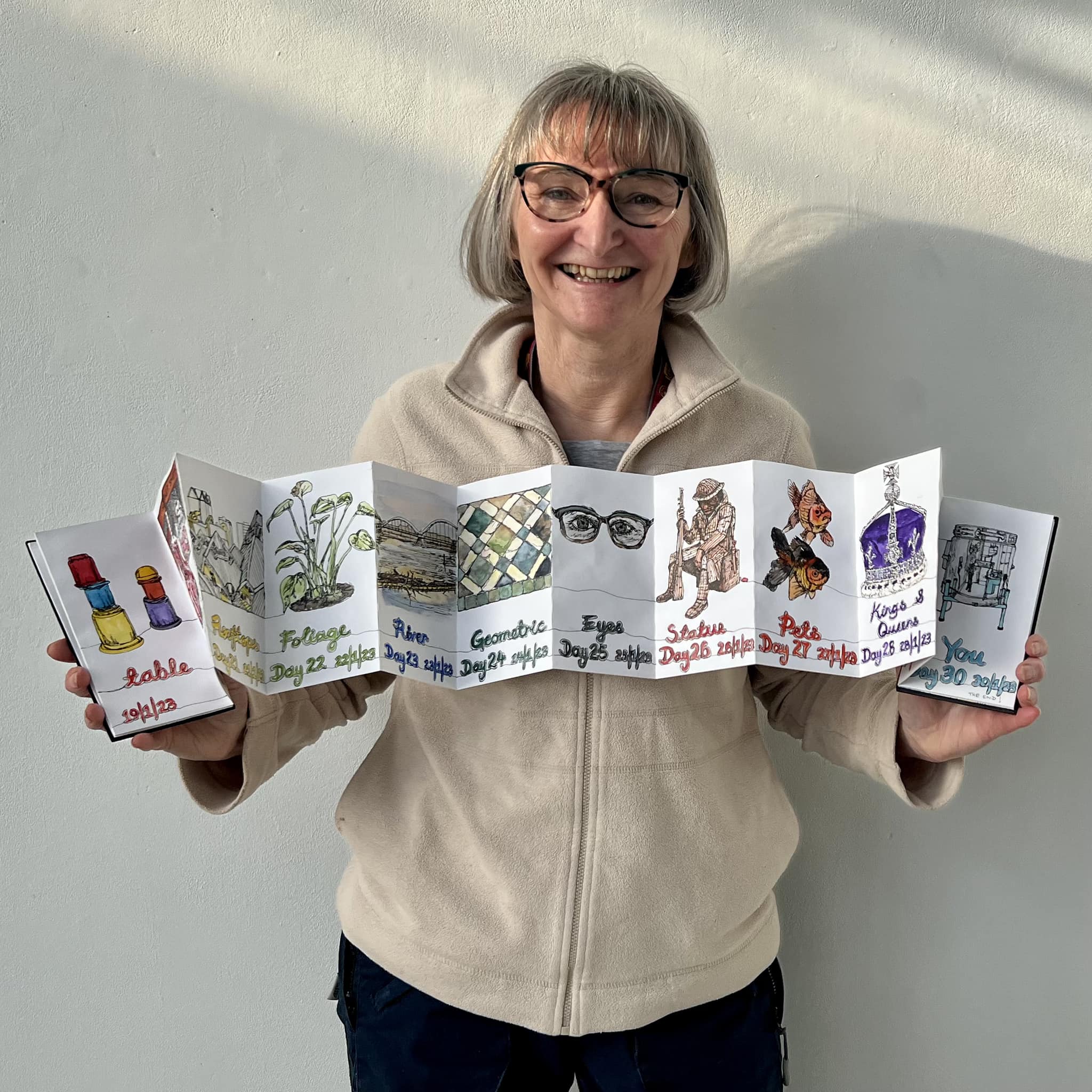 Lynn
"I had to get a friend to take this at university today as I couldn't hold the book open and take a photo. It's been great seeing all your work (I'm gradually working my way through it all) very inspiring. Hope to see you next year."
HOW IT WORKS
Get ready to dust off those sketchbooks, dig out your favourite art materials and join me for a super-creative, relaxing start to the new year.
This year the challenge will be hosted inside the **BRAND NEW** Sketchbook Challenge App!
Oh my goodness I am so excited to introduce you to this app. Don't worry, you will still be using traditional sketching materials, but the daily prompts will live in the app, meaning you can sketch literally anytime, anywhere!
Join thousands of people from across the globe as we all fill our sketchbooks in this 'prompt-based' challenge.
Keep scrolling to find out more...
the sketchbook challenge 2024
features you'll love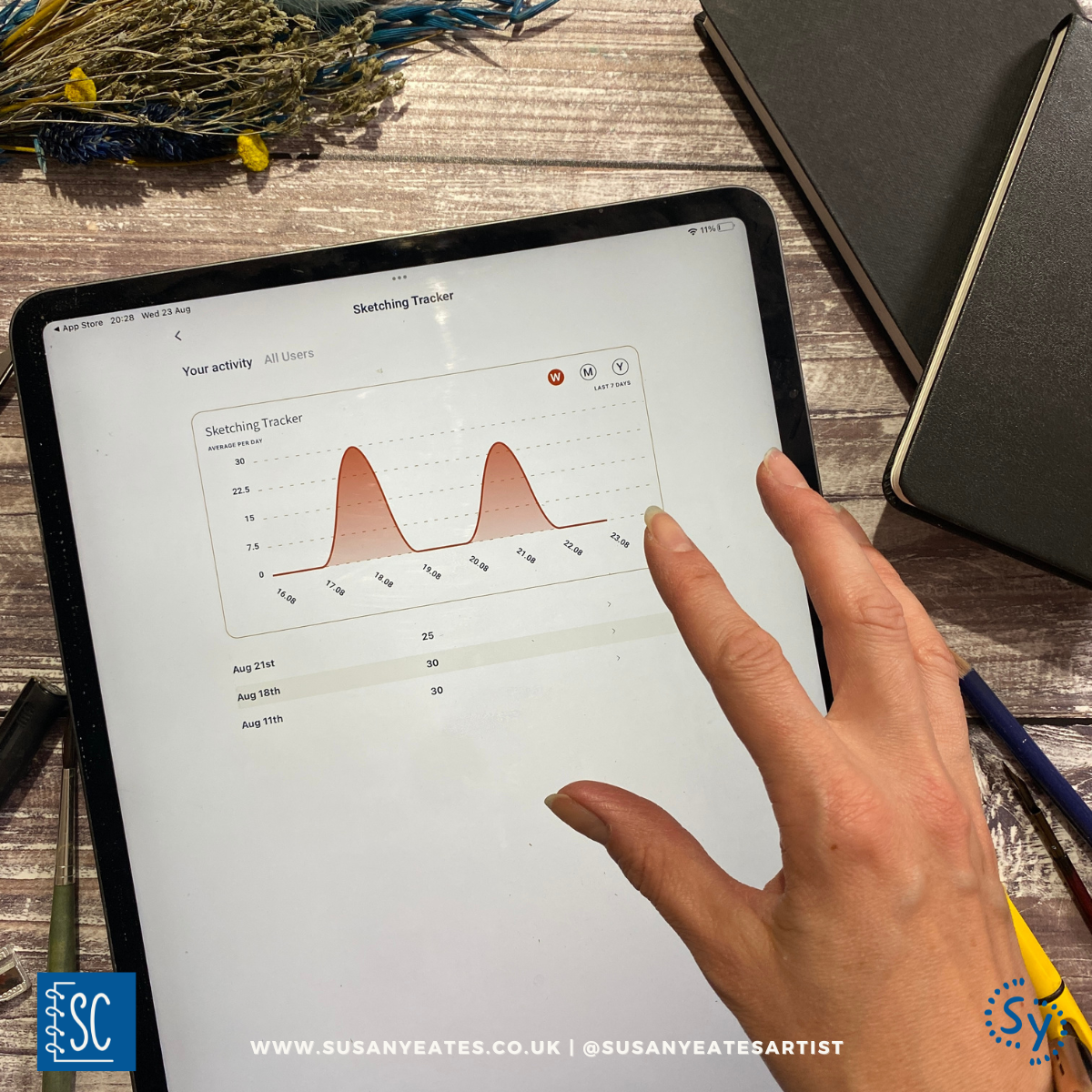 track your progress
Watch your skills evolve with our sketching tracker. Witness the transformation of your sketches as you commit to 30 days of sketching.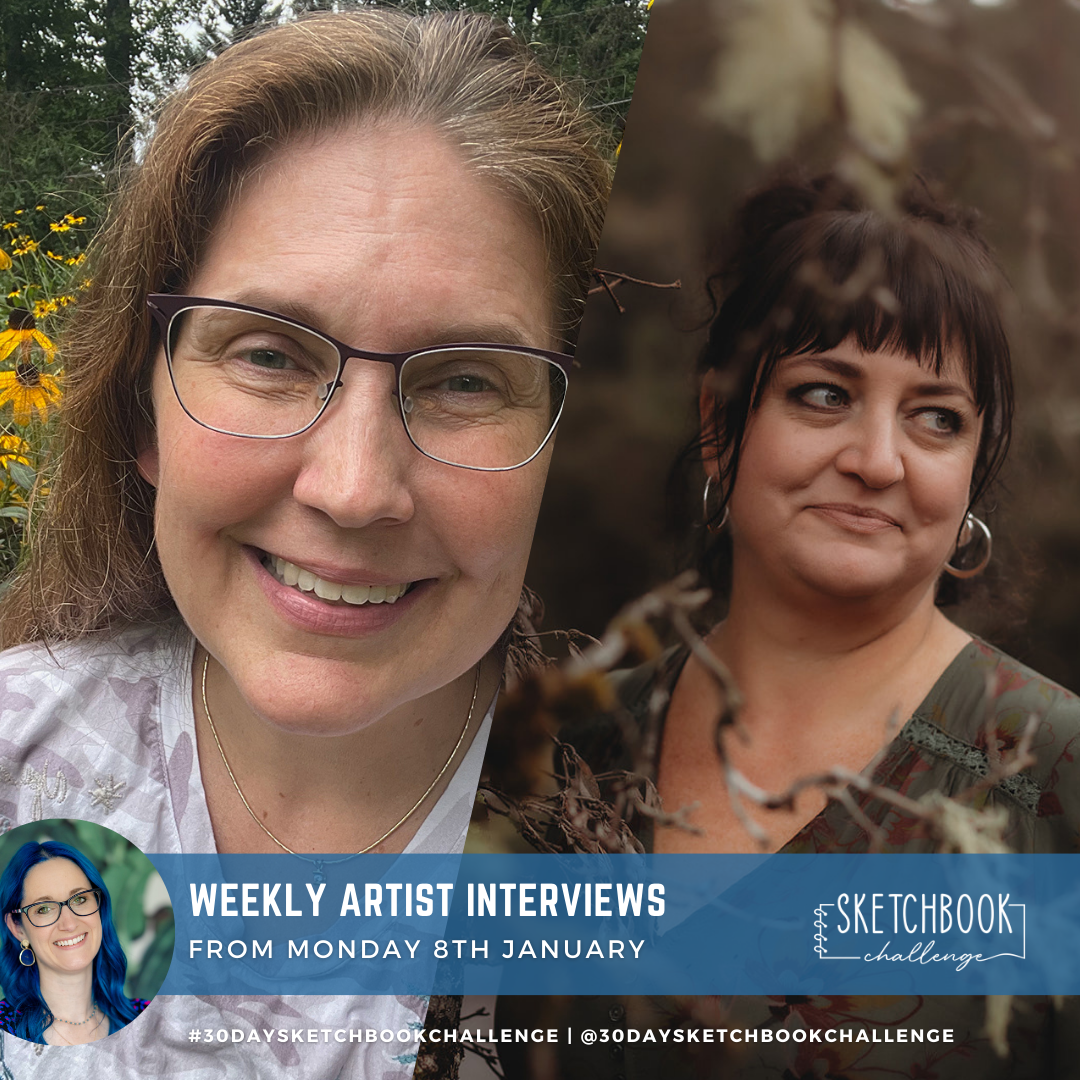 weekly artist interviews
Join me LIVE on Zoom every Monday evening for creative mindset discussions with our panel of invited guest artists.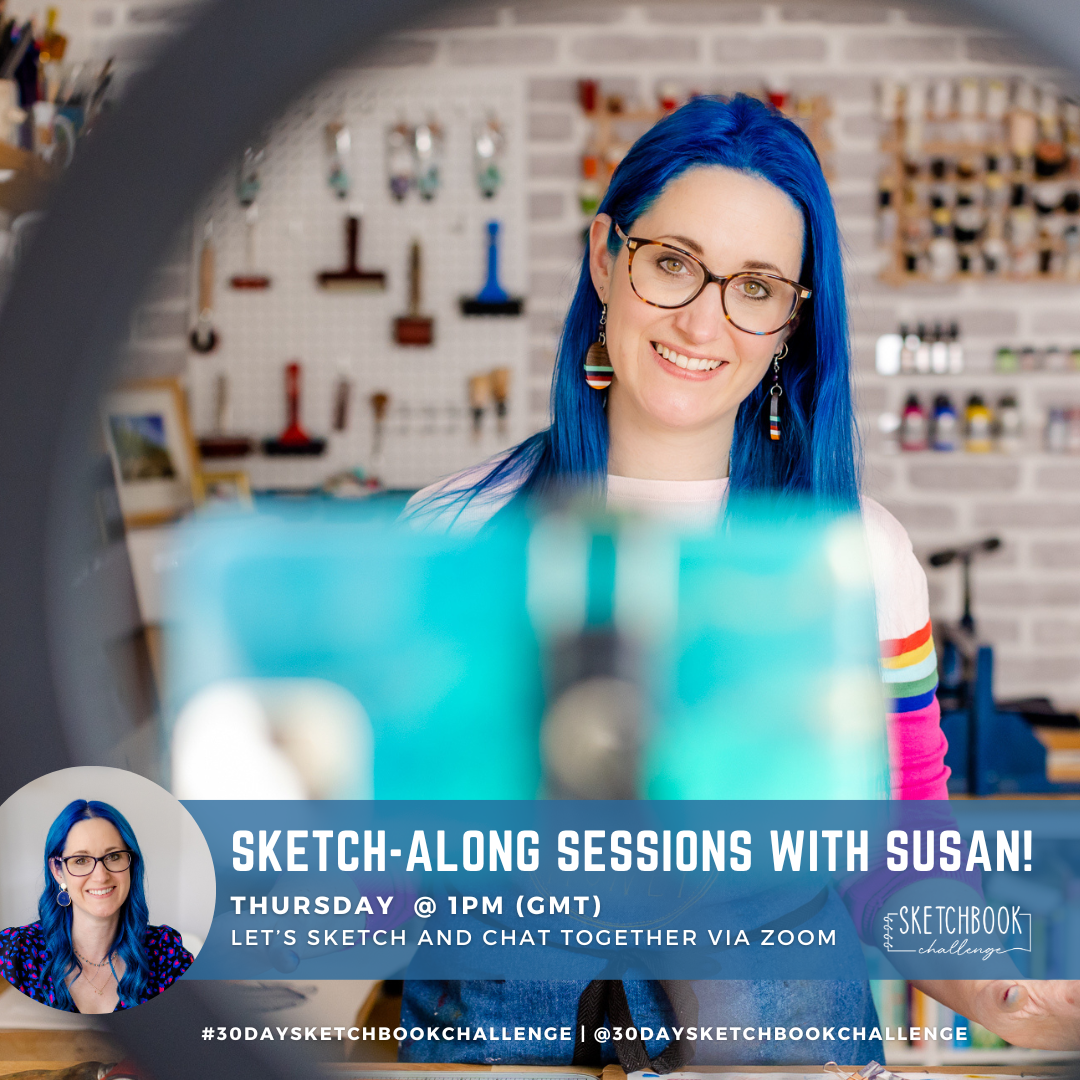 live sketchalongs
Every Thursday at 1pm GMT Susan will run relaxed sketching sessions via Zoom - where anyone can bring along their sketchbook and ask questions too!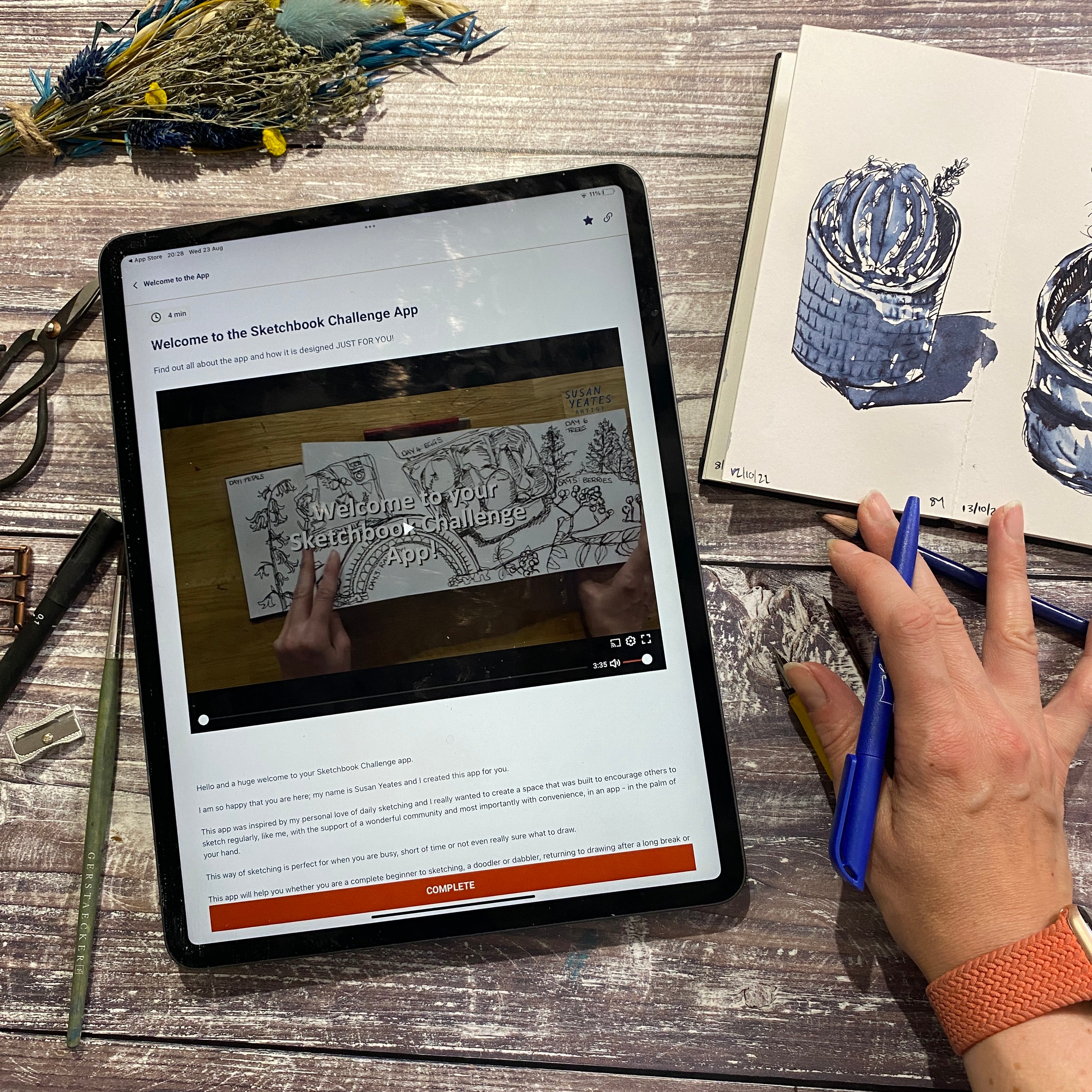 Sketching tutorials
Each week you will also receive via the app a bonus sketching tutorial. A simple and fun tutorial to assist you with sketching in January.
register for the challenge today
pricing plans explained
The 2024 edition of the 30-Day Sketchbook Challenge is hosted via the Sketchbook Challenge app. This gives access to a number of features that are specially created to assist you with building a daily sketching habit.
This year you can join the challenge via the app in two ways: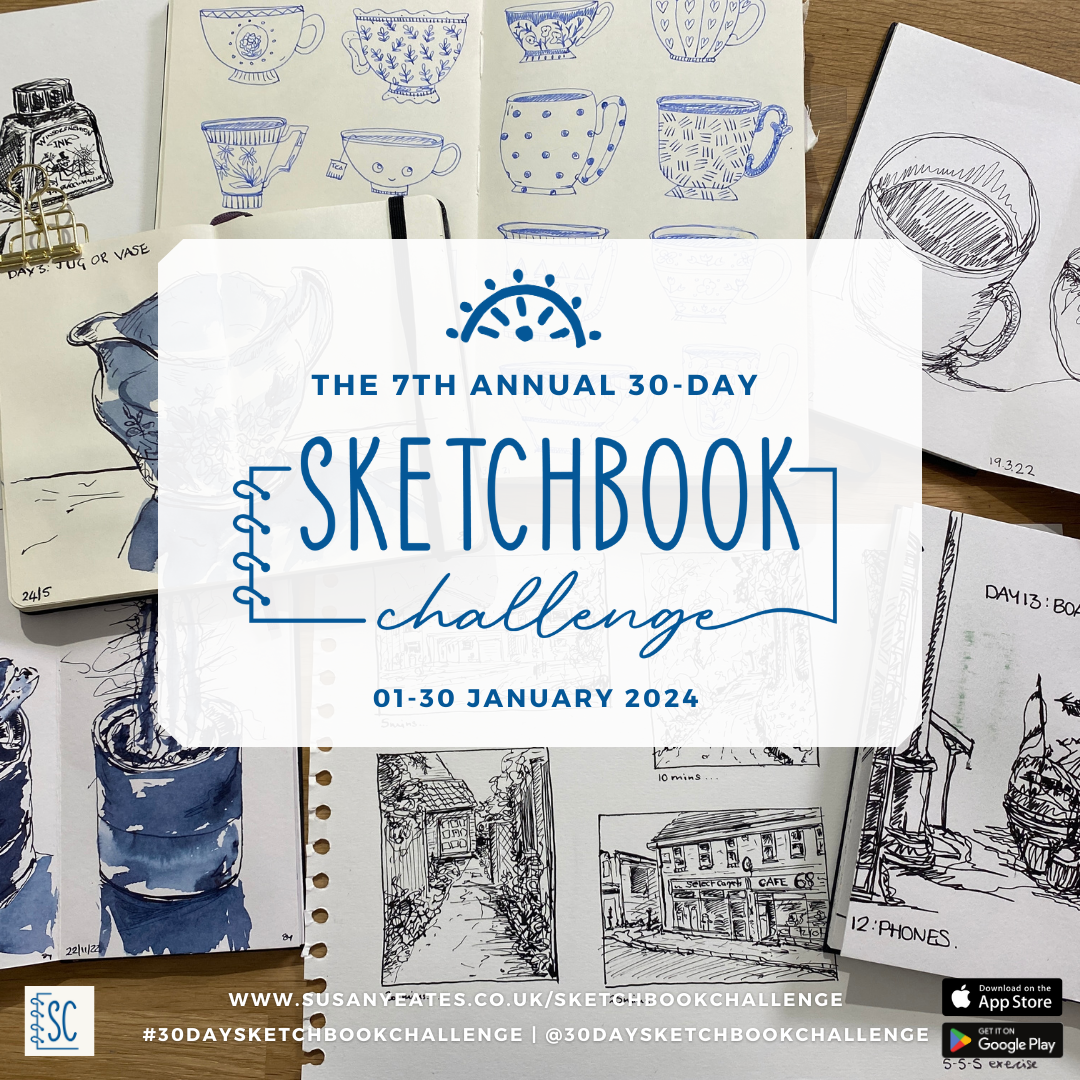 join the challenge for £17.99
Join the challenge for a one-off payment of £17.99 (early bird price until 24.12.23). Unlock access to the challenge 'course' within the app. Plus get premium app features including the Facebook community, sketching trackers and creative mindset course from the moment you register to 31 January 2024. Other challenges in the app NOT included.
Subscribe for £9.99 p/m
Enjoy everything! Unlock access to all features and other 7 and 30-day sketchbook challenges in the app. Includes the 7th annual 30-Day Challenge 'course', sketching trackers, creative mindset audio course and the Facebook Support Community throughout 2024. Cancel at any time. 7 day free trial.
let's get sketching
Each day, for 30 days in a row, I will send you a new sketching prompt – I will share this through the app, via email and on social media. 
Take the prompt, be inspired and draw a little something. Take just a few minutes or longer if you want. The challenge is suitable for everyone, whether you have never picked up a pencil before or are a seasoned pro.
Let's begin the year with a big creative boost and a bundle of fun.
"Words cannot express how much I have enjoyed this and how it has made me find time each day for myself and develop the discipline to sketch each day."
what do our challengers get up to?
examples: day 16, 2023
Let me show you what some of our challengers get up to. From complete beginners picking up a pencil for the first time to those practicing their watercolours or even professionals - everyone has a go!
These photos show just a small selection of the different responses to Day 16: Footwear from 2023.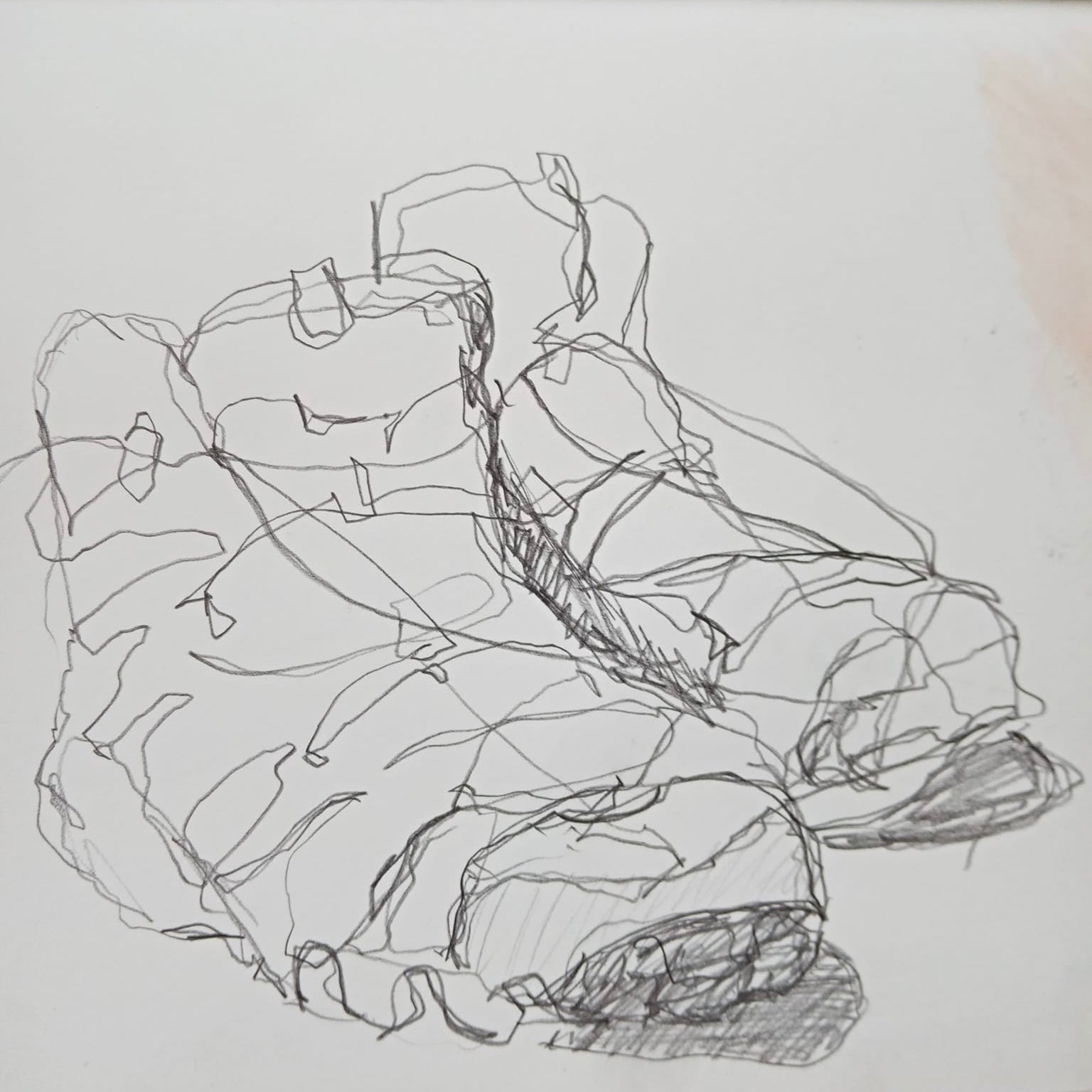 Kate
Continuous line drawing in pencil.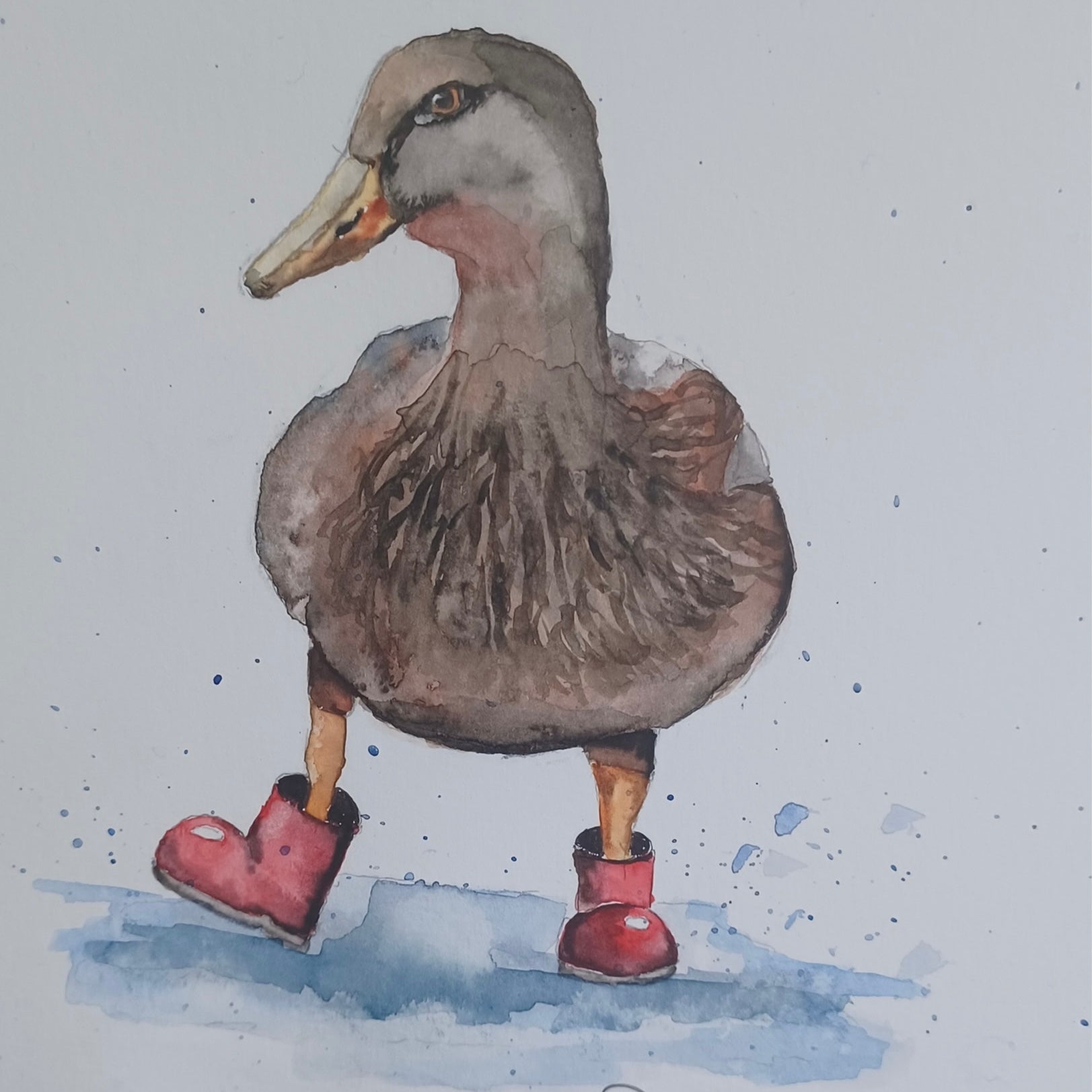 Carolann
"'Footwear' or 'Duck in Boots' think you can tell by my sketches I love sketching animals and try and throw them in with some of the challenges."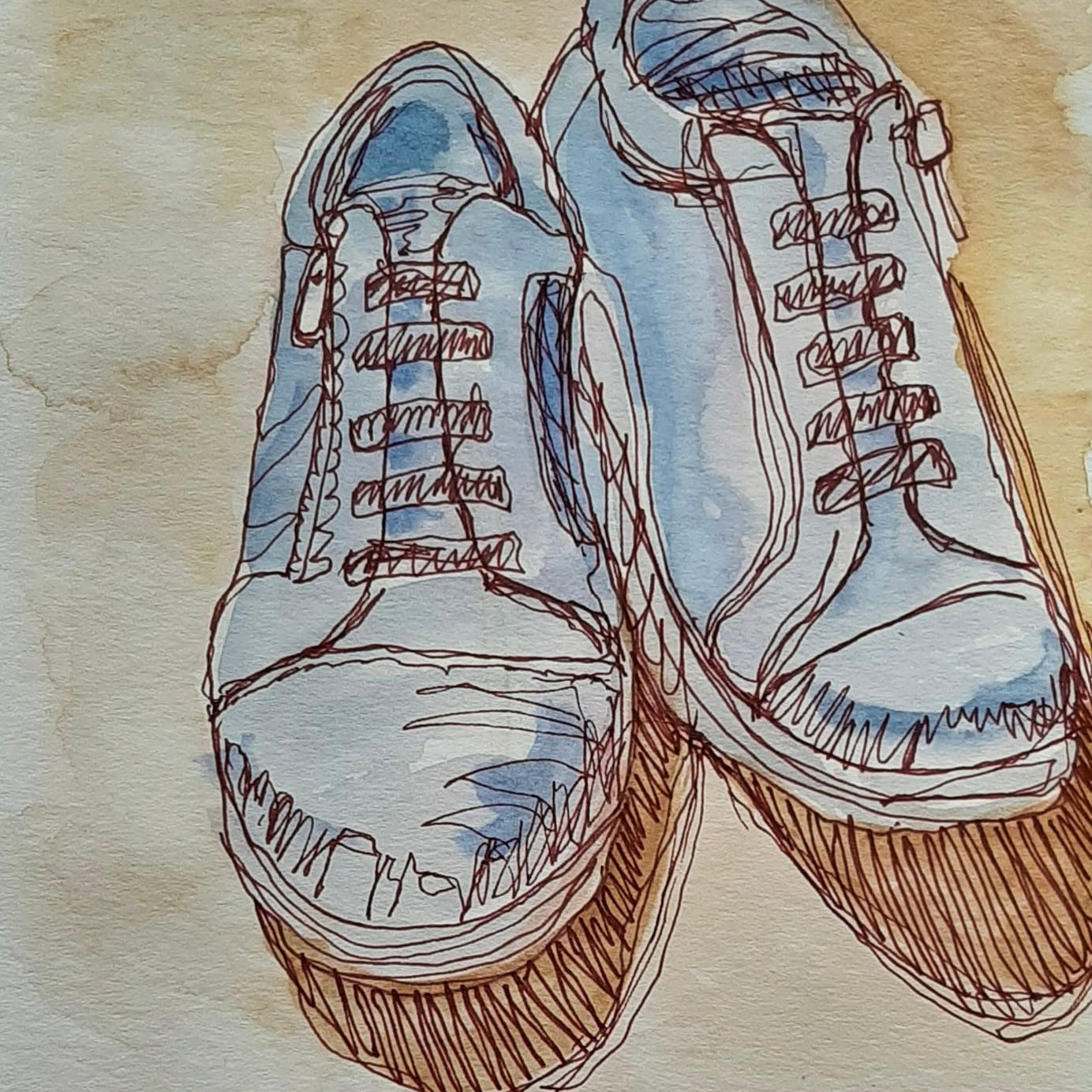 Suzanne
"Inspired by other participants continuous line drawings, I thought I'd give it a try. Micron pen, watercolour."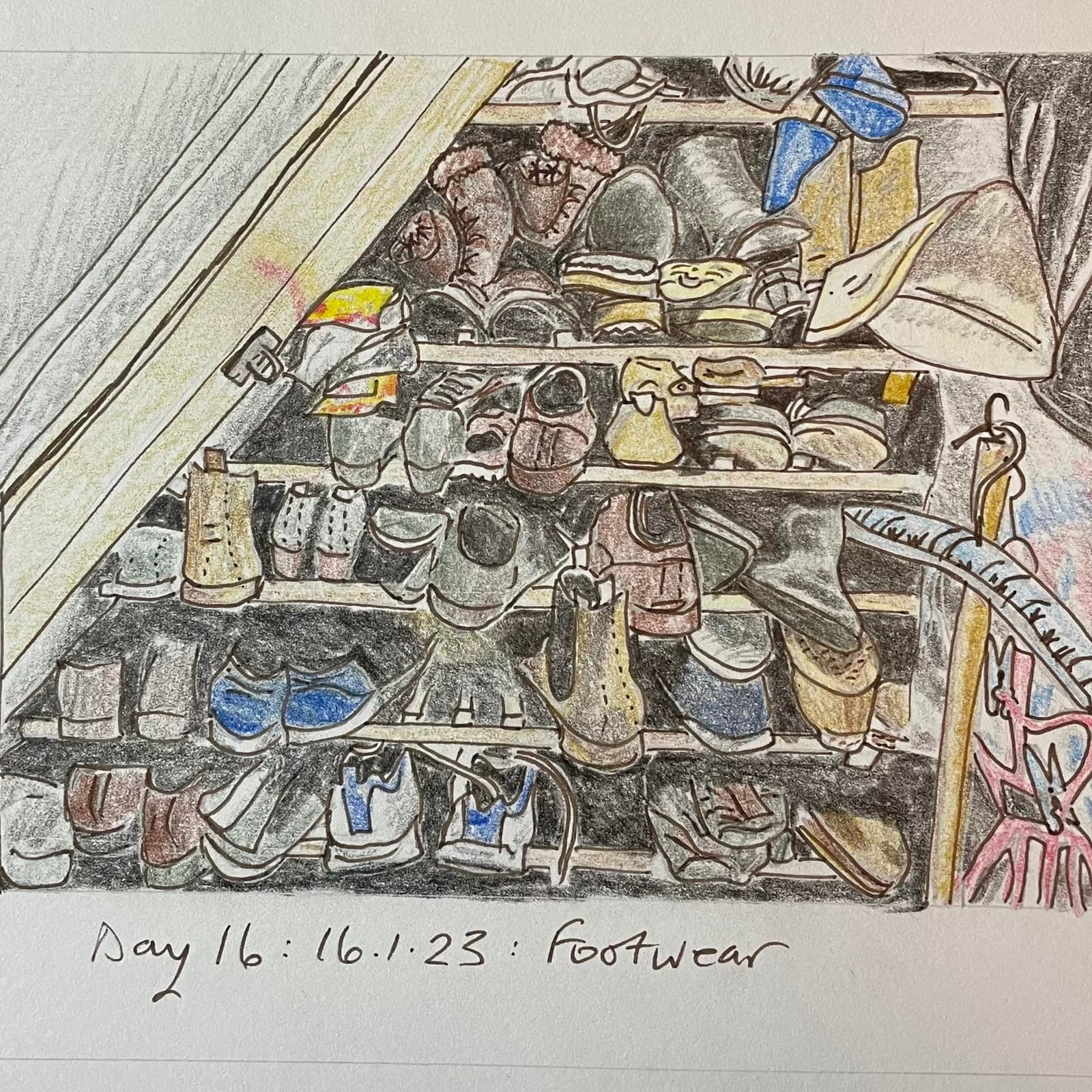 liz
"Our shoe cupboard under the stairs really needs sorting out!"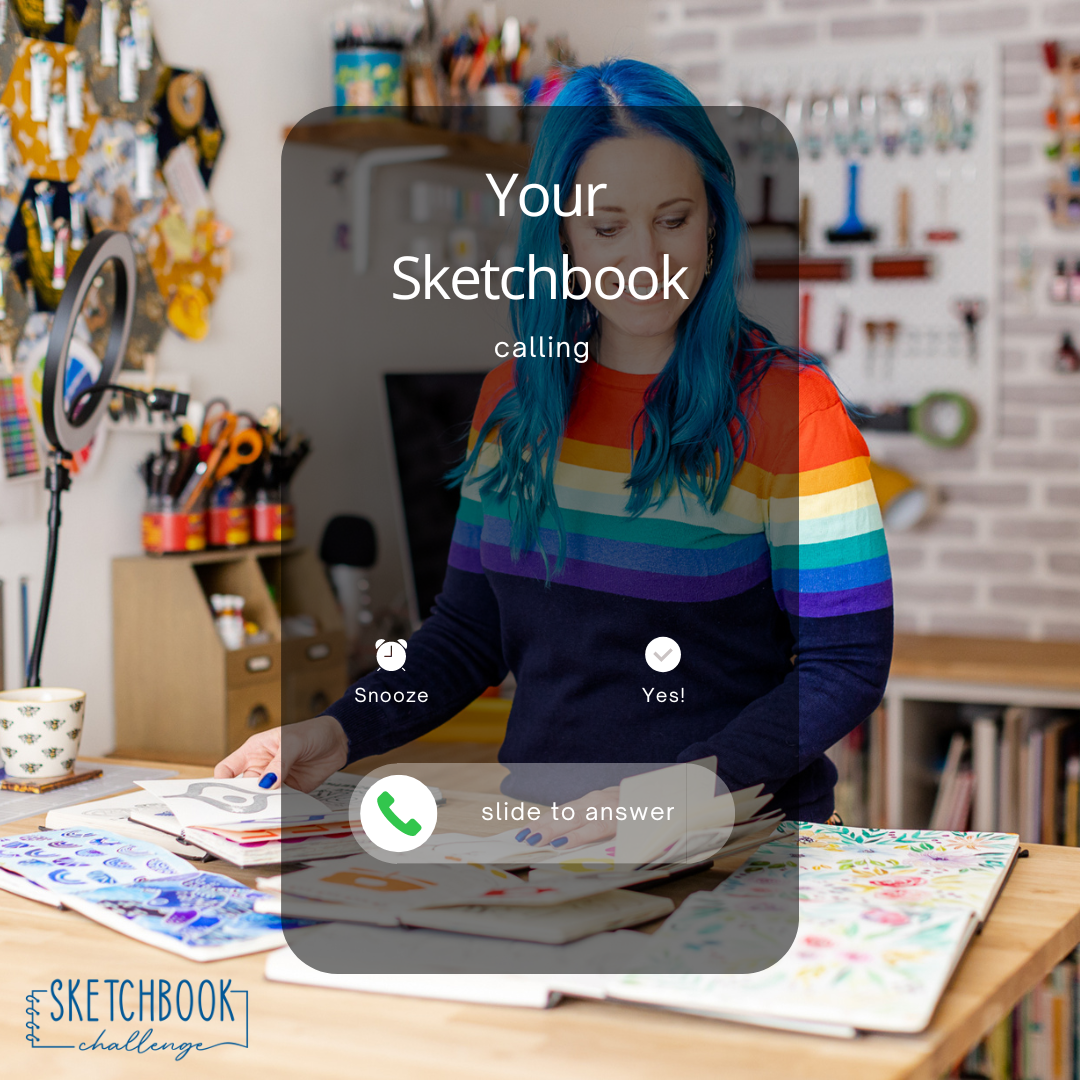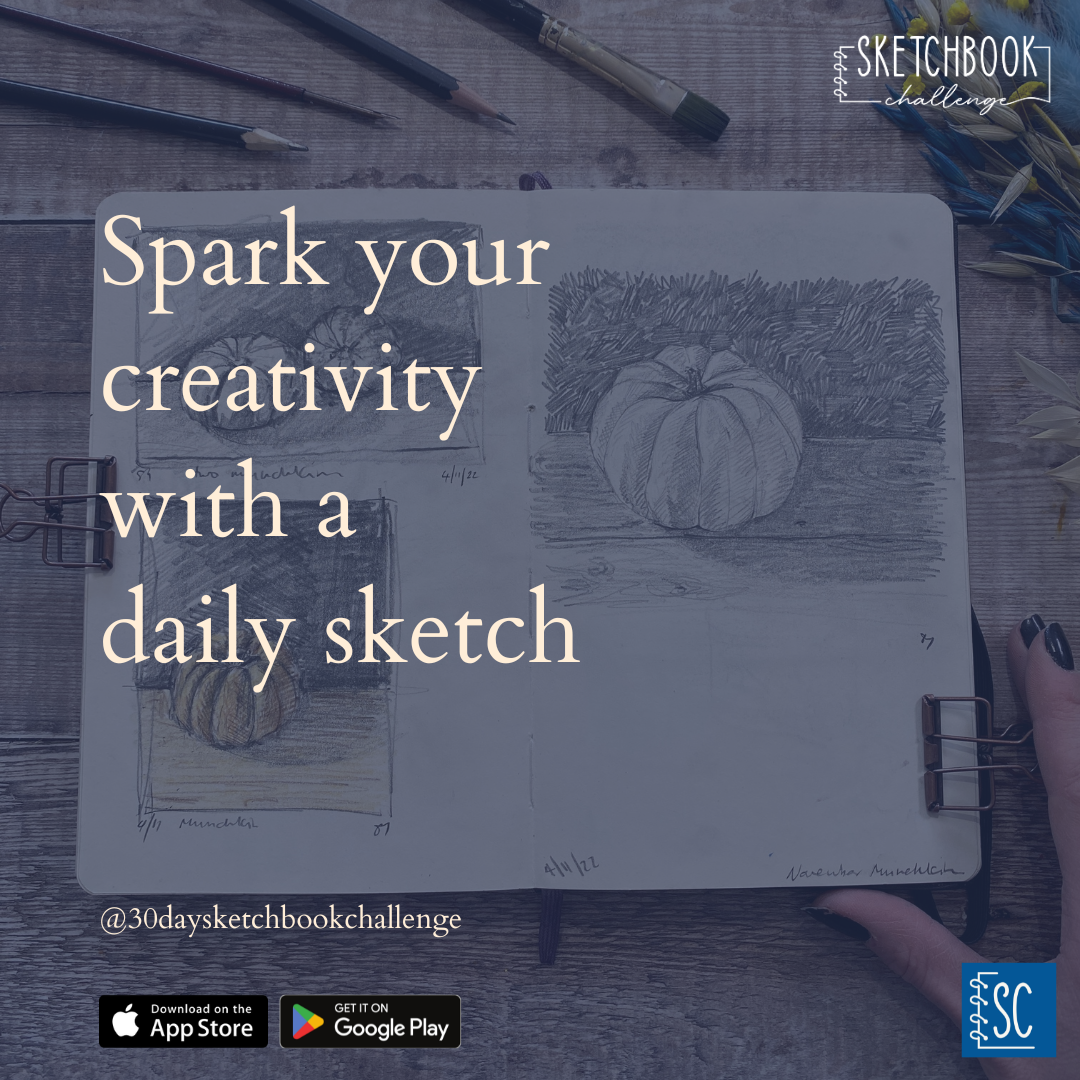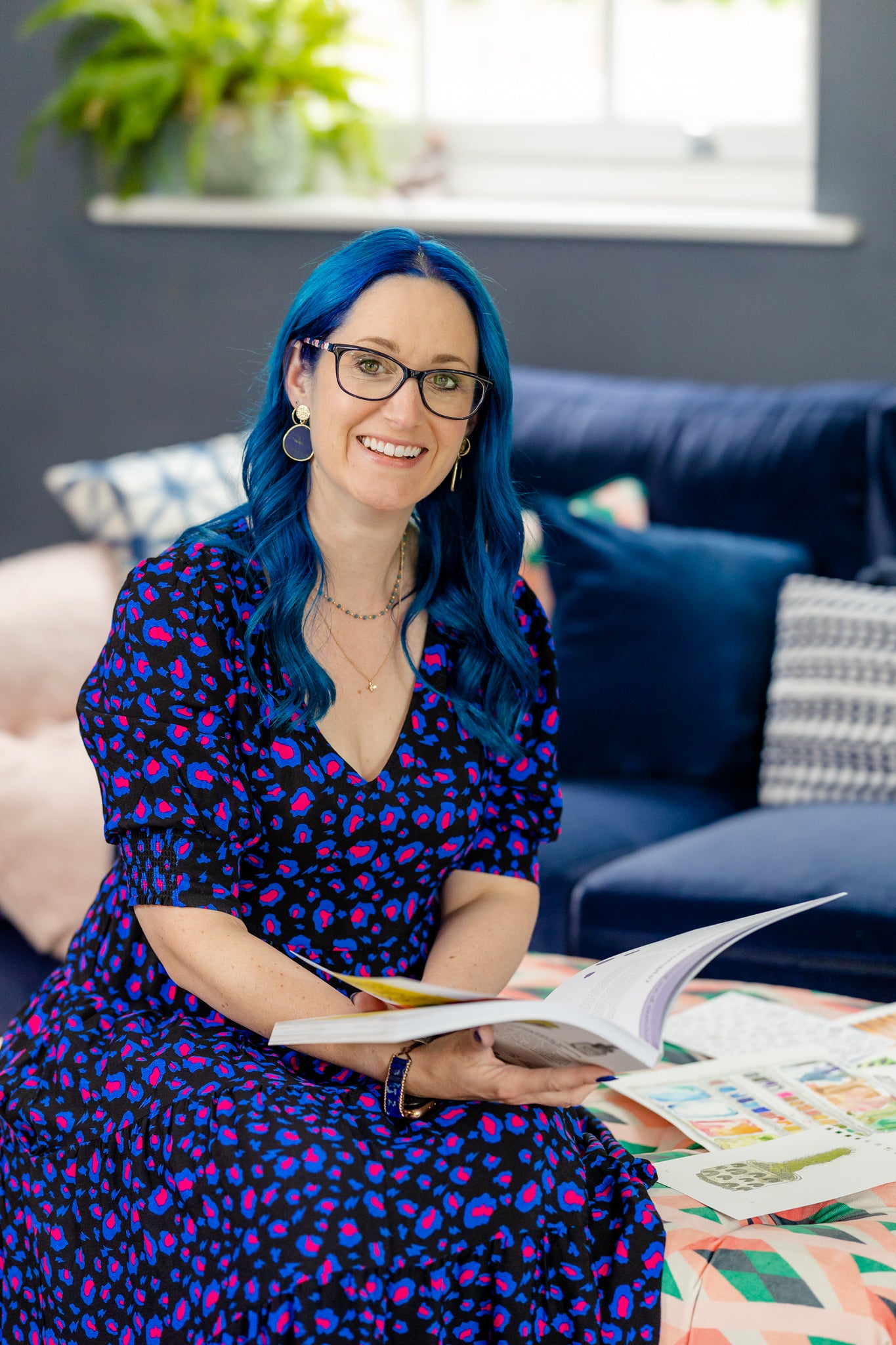 About your host
Hello, I'm Susan
I am an artist, author and online educator based in Woking in the UK. But most importantly I am your Sketchbook Shallenge host and guide!
I've worked as a successful professional artist for over 15 years, authored six art books including Sketchbook Challenge: 100 Prompts for Daily Drawing, spoken at TedX Woking, been featured on HobbyMaker TV, created over 35 online courses, and taught thousands of aspiring artists like you.
I love encouraging others to get creative and welcome you into the Sketchbook Challenge App this year!
So what exactly is the Sketchbook Challenge?
Put simply, it's a commitment to draw in your sketchbook for 30 days in a row, it's as simple as that.
Whether you draw for 30 seconds, 30 minutes or even several hours, it doesn't matter. Whether you are a beginner or a professional artist, it's for you.
When the challenge begins I send you 30 different prompts to get you sketching – a different one each day. And that is the challenge!
As well as the daily prompts, there are also artist interview Zoom sessions every Monday, weekly tutorials, a private Facebook support group, a unique sketching tracker and various community threads on the app platform.
what do we get up to?
example sketchbook prompts
Here are some examples of prompts that were shared in 2022 and 2023. Each prompt will also have some helpful notes and explanations to give you a starting point for sketching.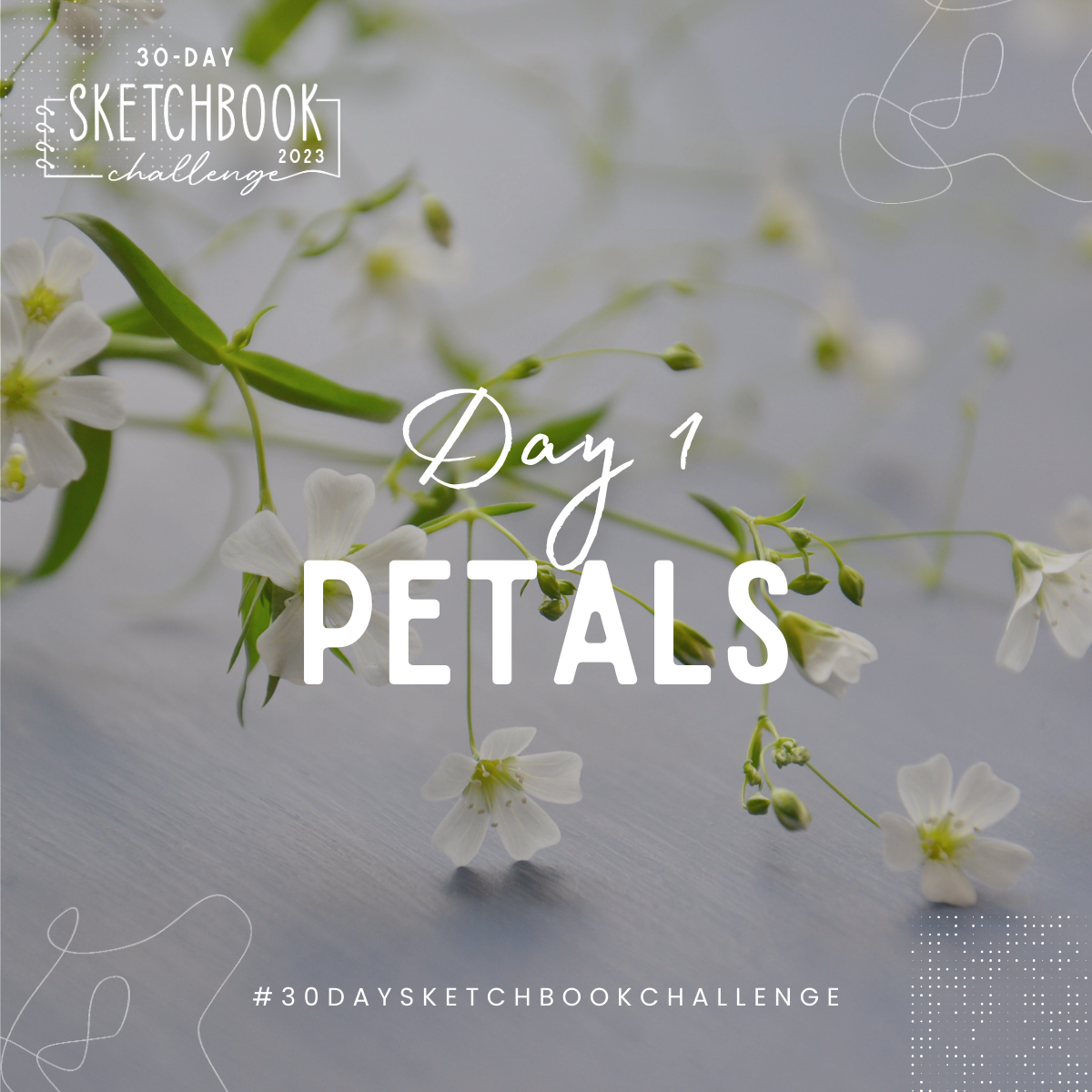 Day 1, 2023
In January 2023, we started the challenge by sketching petals.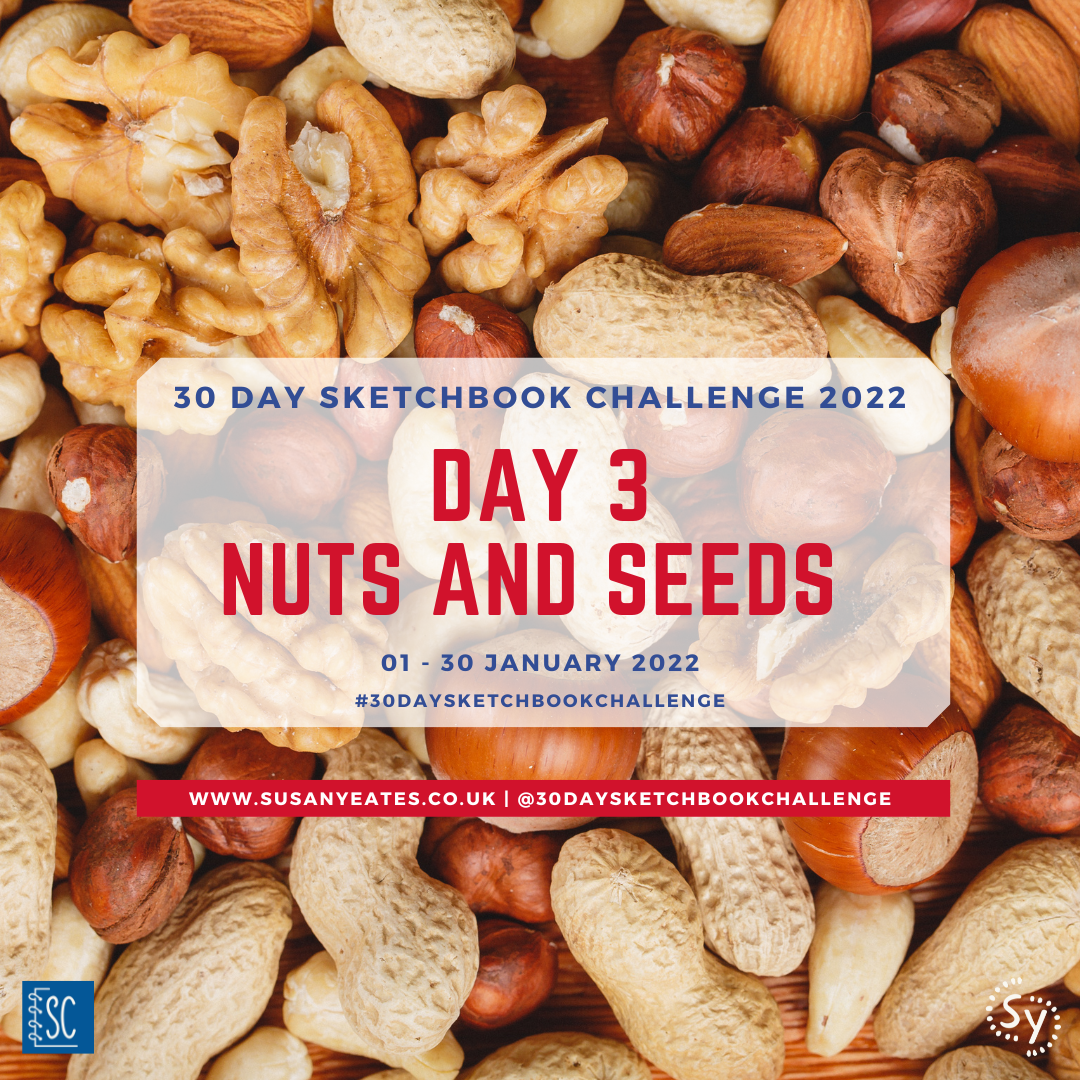 Day 3, 2022
In 2022, we looked to nuts and seeds to our inspiration on day 3.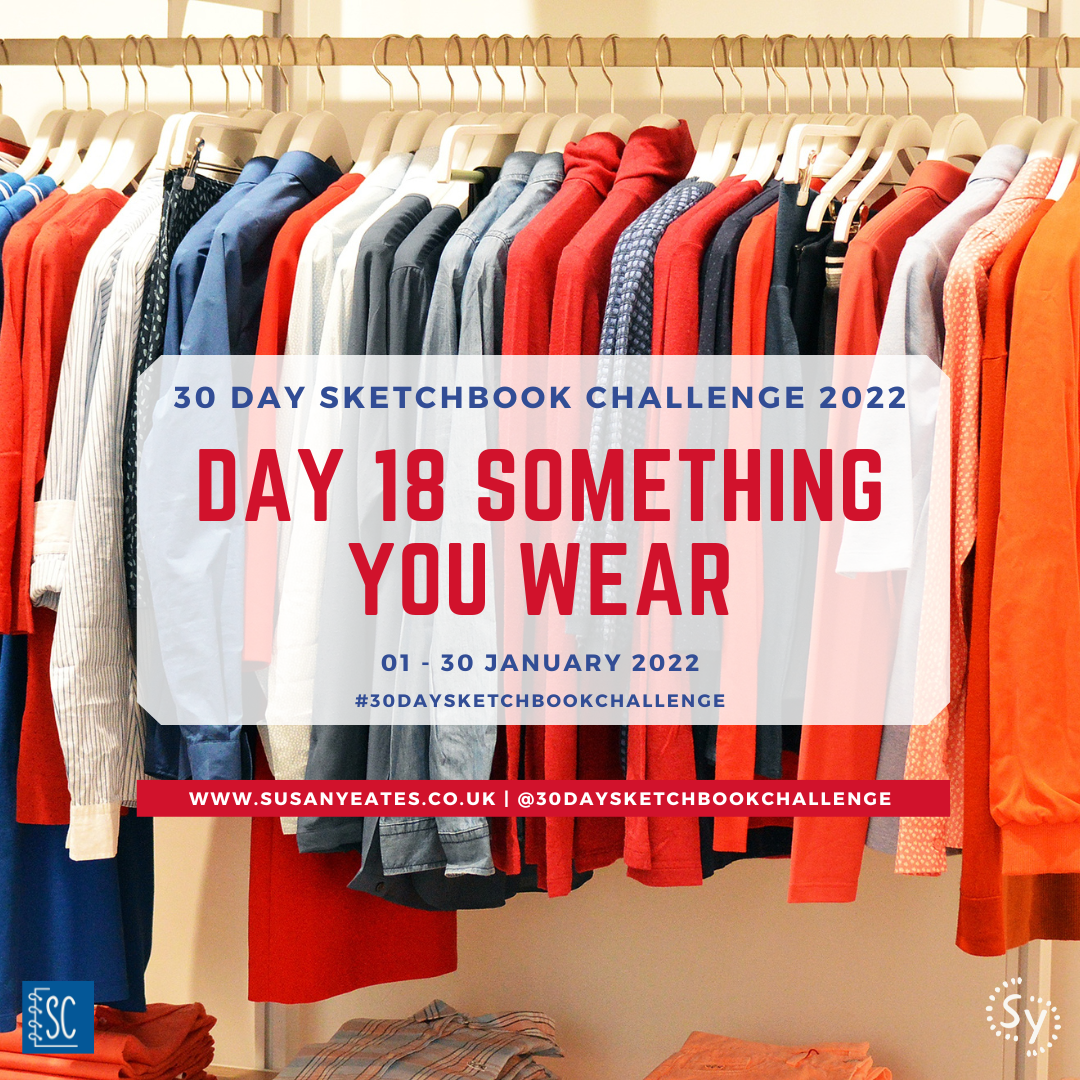 Day 18, 2022
In January 2022 on day 18 we looked at the things that we wear as our prompt.
Day 23, 2023
On day 23 last year we looked at lakes and rivers.
What we get up to
Meet some more sketchers...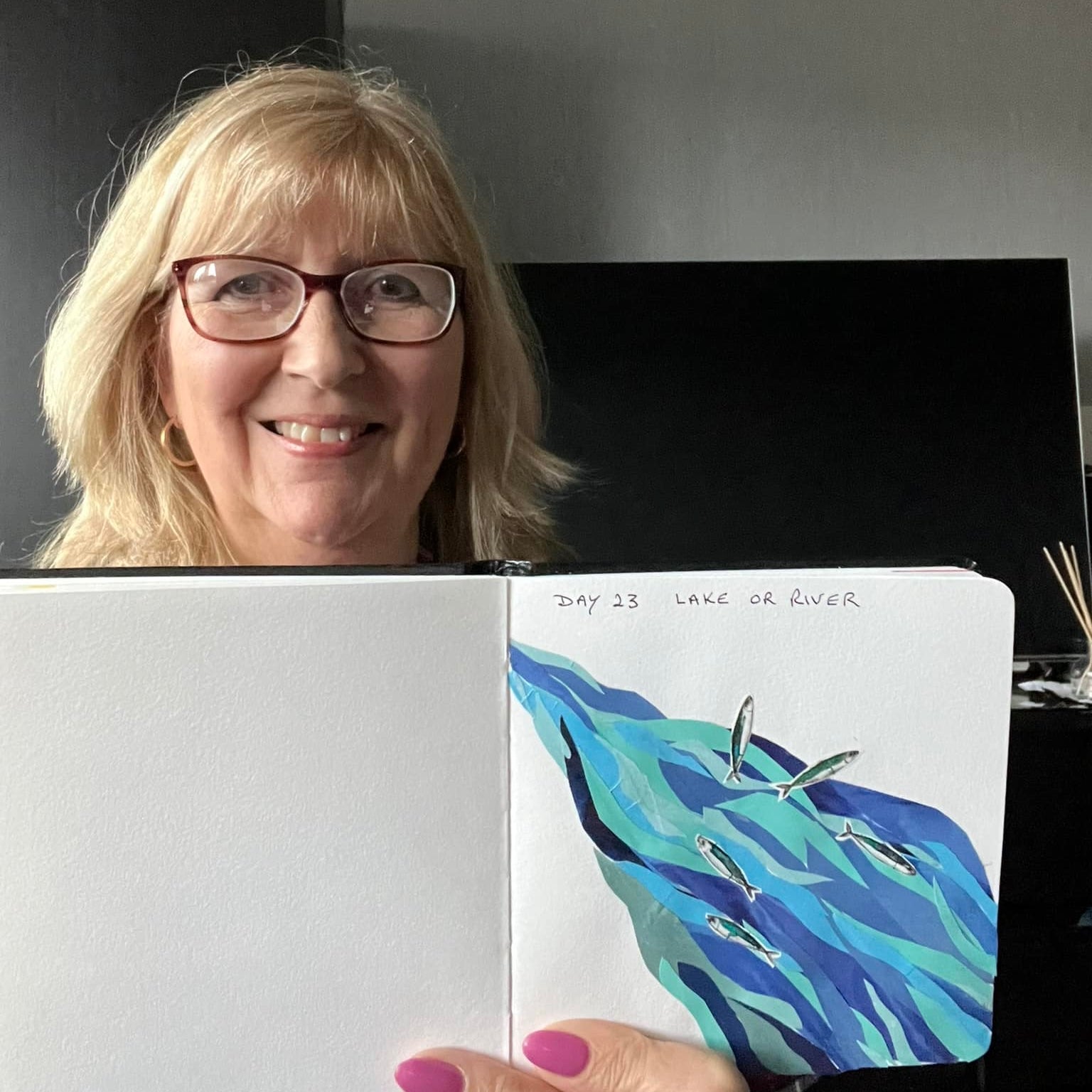 arlene
"Thank you Susan and everyone that made my 30 day challenge so wonderful. I am so happy that I managed to complete it and have been encouraged to continue with a sketchbook habit."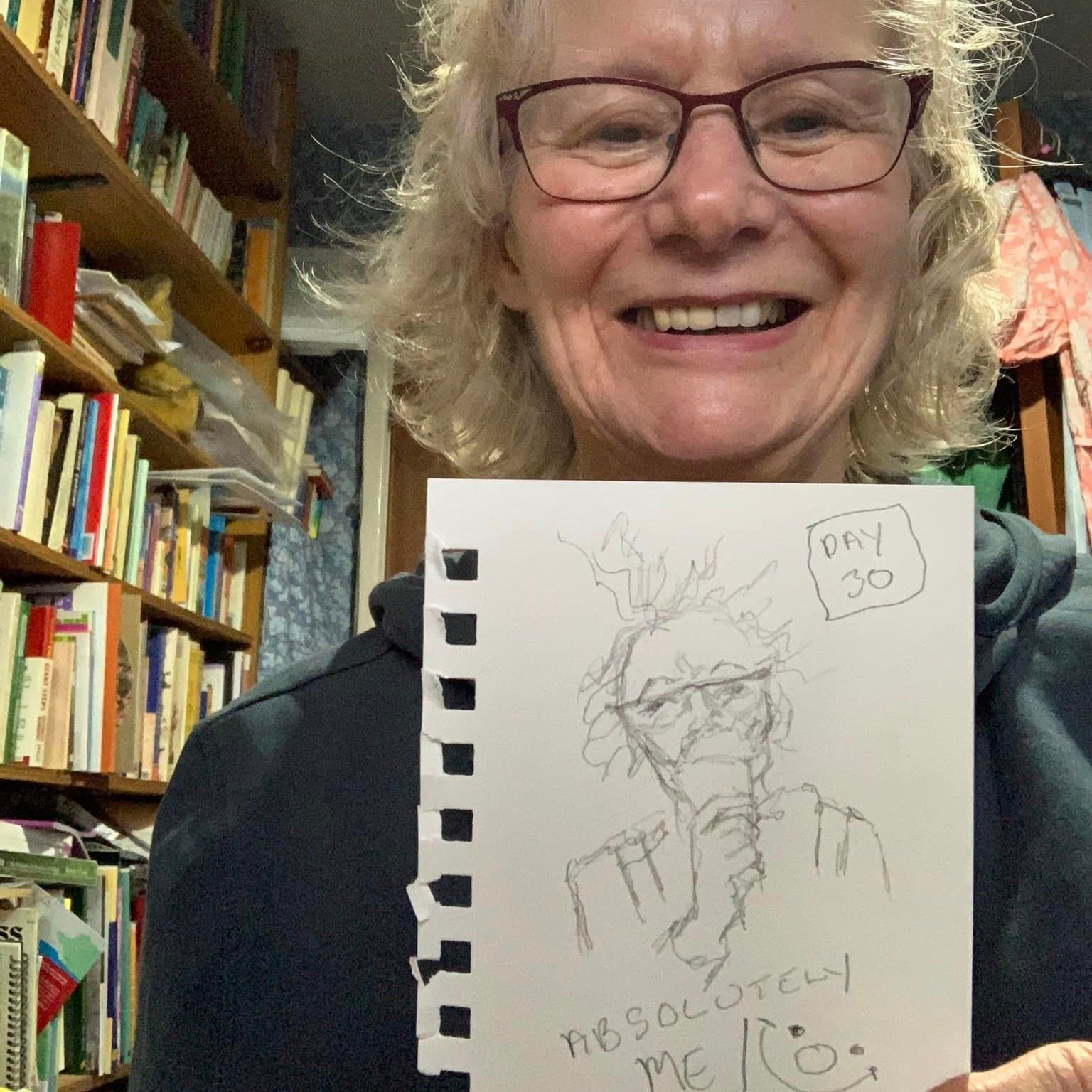 elizabeth
"Thank you for challenge it's got me hooked."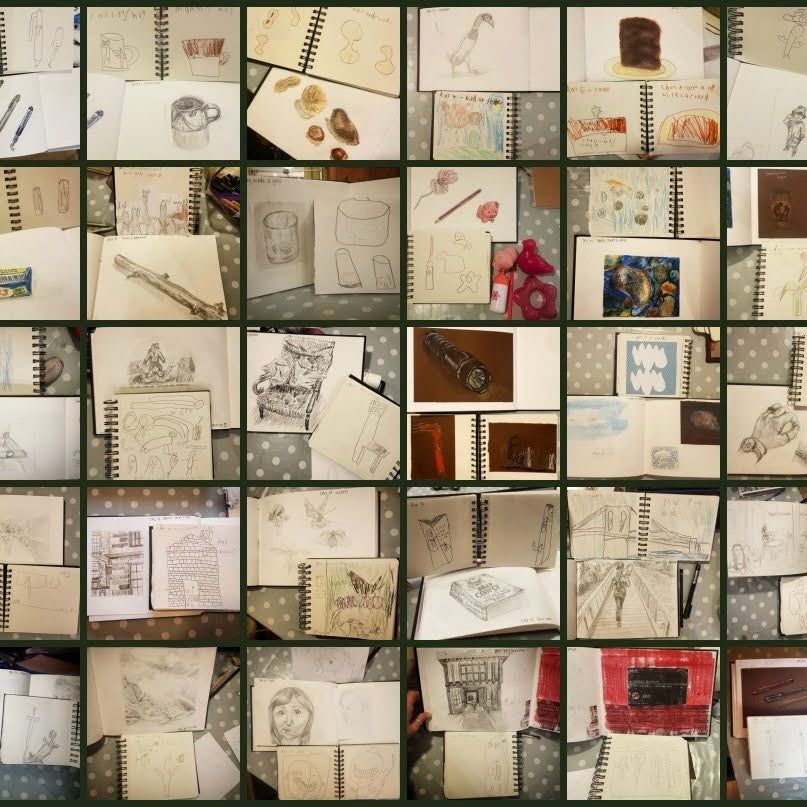 emily
Emily took photos of her sketchbook every day during the 2023 challenge. Here is a compilation of those photos!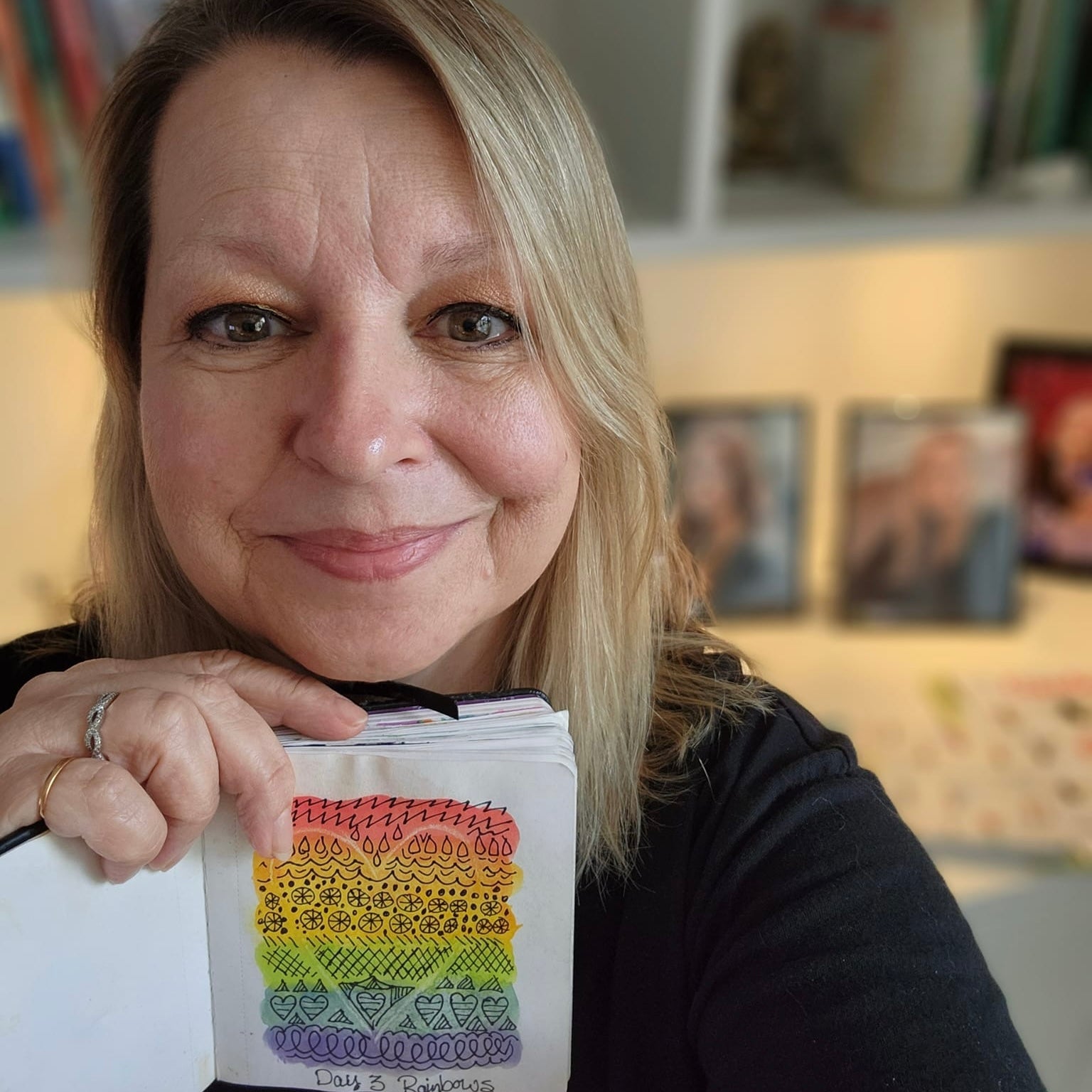 kim
Kim worked in a small sketchbook throughout 2023. Here is Kim and her photo of her day 3: Rainbows sketch.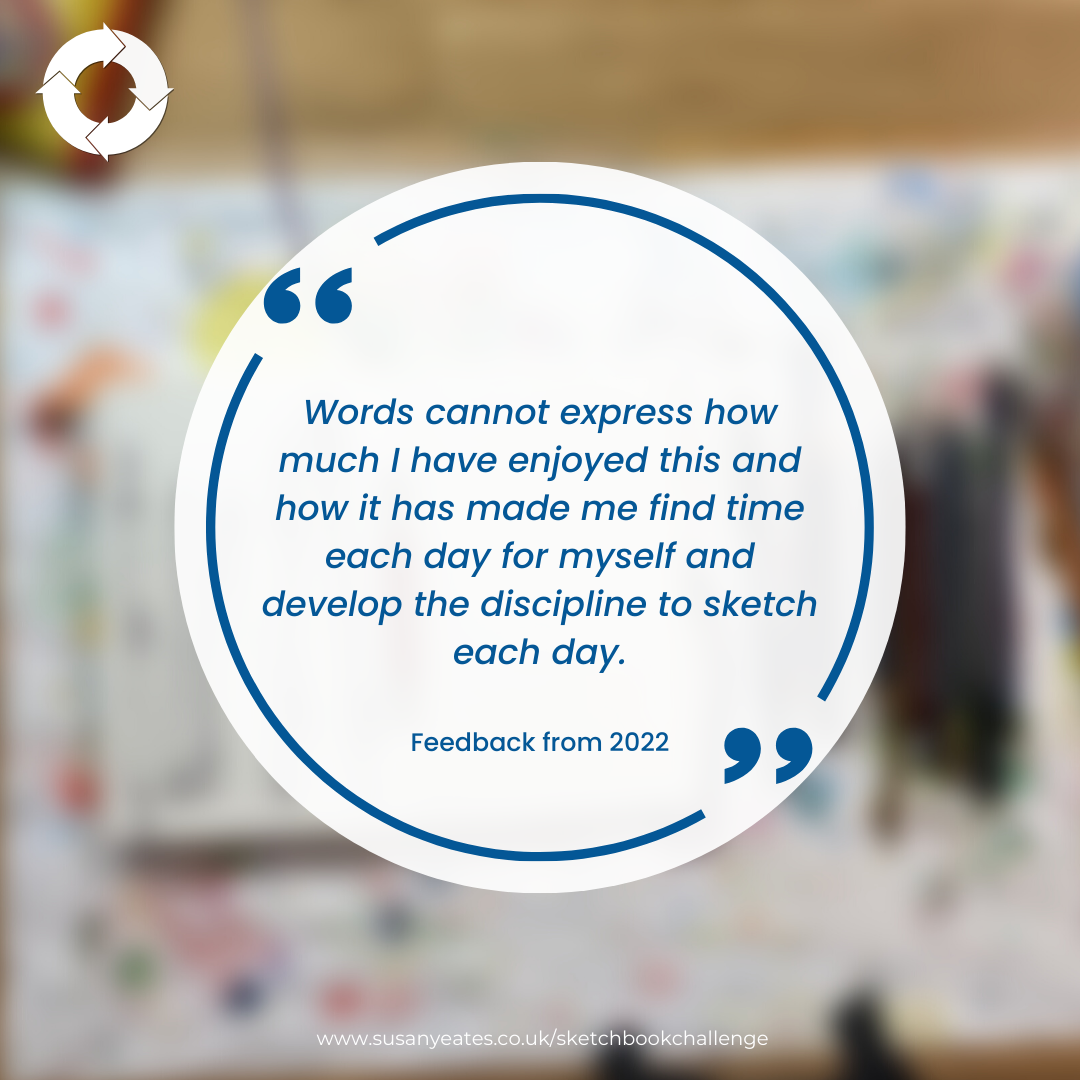 don't take my word for it
what people are saying
Thousands of people from across the world have taken part in the challenge over the past few years and are some of their reasons for joining in:
"I just love art and being creative."
"I have wanted to start sketching more regularly and I hope this will help!"
"To make and commit more time to do art and to improve."
"To remind me to draw more."
"To help me start sketching again."
"I love to sketch and find it very therapeutic but life can be so hectic I forget to spend time on the things I love to do."
"Because I'm a full time painter but want to get back into the very good habit of using a sketchbook daily."
"To encourage myself to try drawing."
"Love an arty challenge…"
The 7th annual 30 Day Sketchbook Challenge starts on 01 Jan 2024
The goal of the 30-Day Sketchbook Challenge is to encourage everyone, regardless of background, to open their sketchbooks and start making marks. 
It's a wonderful global community that encourages creativity on a massive scale. Just search for the hashtag #30daysketchbookchallenge on Instagram to see a flavour of what people get up to!
I will help you fill your sketchbook, boost your creativity and find your drawing mojo.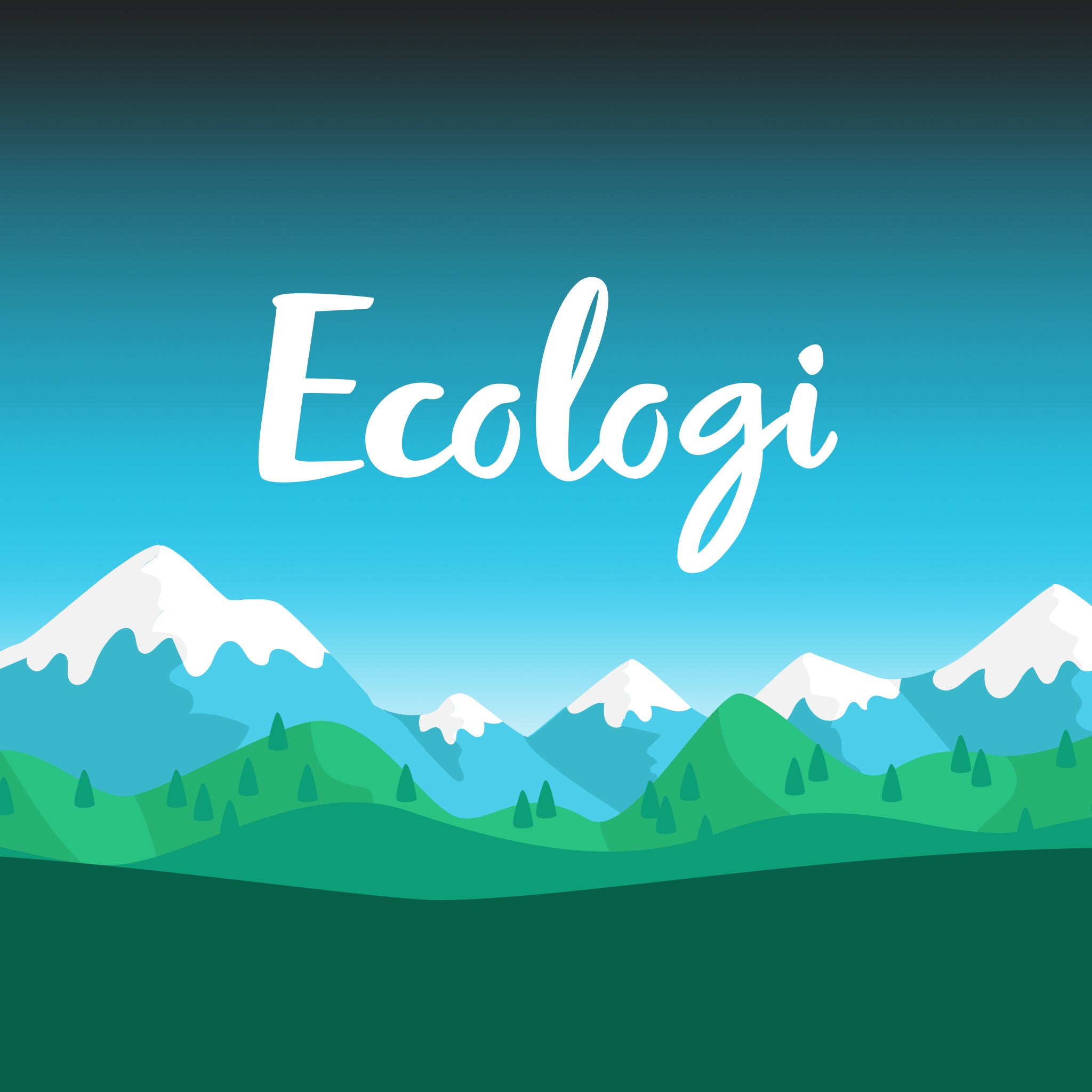 Plant trees with me!
In 2024, one tree is planted for every person that joins the 30-Day Sketchbook Challenge as a one-off event or subscribes to the app. I am donating to the climate change charity Ecologi to plant trees in a responsible way. Hopefully together as part of the challenge we can make a difference to our planet.
Note: The donation / tree planting happens automatically on sign up.
pricing and access
When I started the very first sketchbook challenge I did so with the intention of always making it free as I am passionate about getting everyone sketching. I therefore always intend to offer a FREE version of the challenge as well as the full version of the challenge hosted via the app. To join the free challenge just follow along with the instagram account @30daysketchbookchallenge.
The Sketchbook Starter and FREE versions of the app will unlock some features of the app but NOT provide access to the 'course' content of the 30-Day Sketchbook Challenge 2024.
The early bird pricing of £17.99 for the one-off purchase ends at midnight on 24th December 2023. After that the price increases to £21.99 for the one-off plan and subscription to the app for January 2024.
All of the video content that is included as part of the challenge is this year hosted via the Sketchbook Challenge App (instead of my online course platform). The app provides a single location to host all of the 7 and 30-day sketchbook challenges I run.
Troubleshooting
Once you purchase the Sketchbook Challenge via this page (either the one-off price or the subscription) you would have been asked to create an account in the Sketchbook Challenge app. Remember your login details. You can access the app via this weblink: https://sketchbook-challenge.passion.io/ OR go to the Apple or Google Play store and download the app. Then login using the credentials you used to sign up and everything will be there and waiting for you...
Once you have joined the challenge, you will be able to access the daily prompts both within the app itself and an email will be sent to you each day (morning UK time) of the challenge. Please note that the challenge starts on 01 Jan 2024 - so the first prompt will be sent to you then! If you do not receive the emails in the mornings please email learn@susanyeates.co.uk and we can check your subscription.
Other
Absolutely, the sketchbook challenge is open to everyone and a really welcoming place for beginners. It might seem a little intimidating at first, but we are all here to guide you through your first 30 days of sketching (and beyond!) with advice, positive comments, helpful tips and some handy warm-ups and tutorials.
You can contact me via email learn@susanyeates.co.uk with any questions! I will be happy to assist you. Please expect a response within 24-48 hours during weekdays. I do not work weekends. I am unable to respond to DMs on Instagram and Facebook for any queries. Please do email.