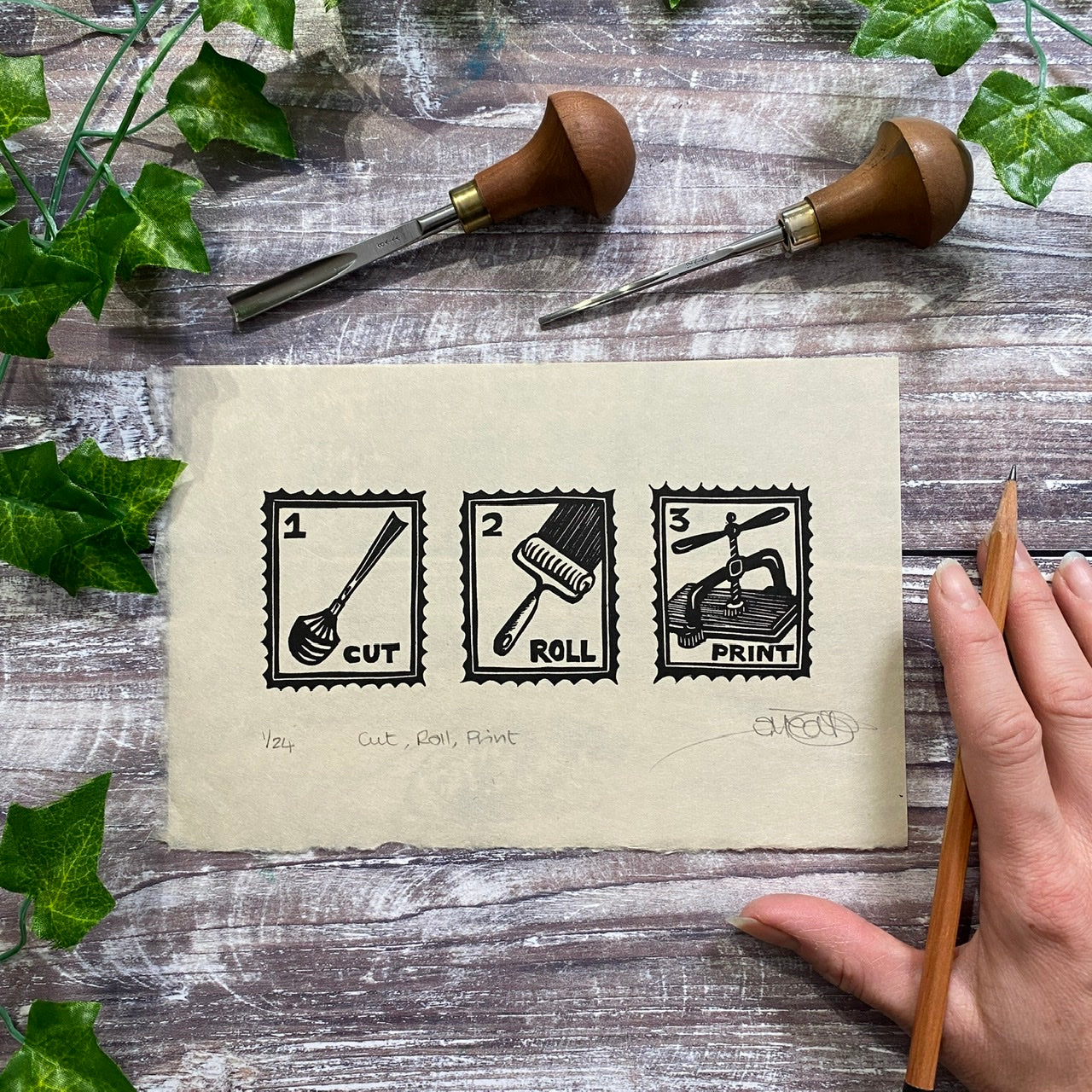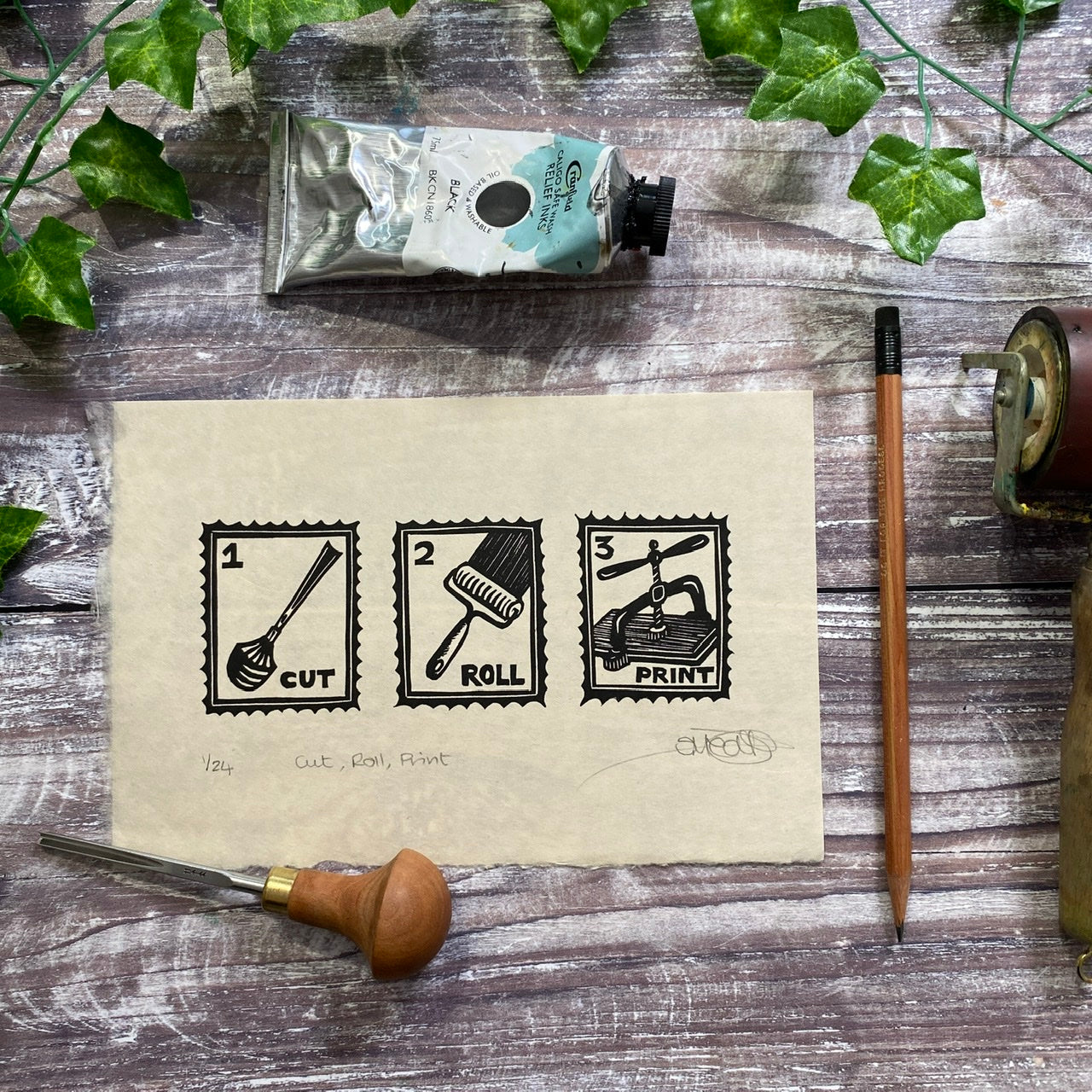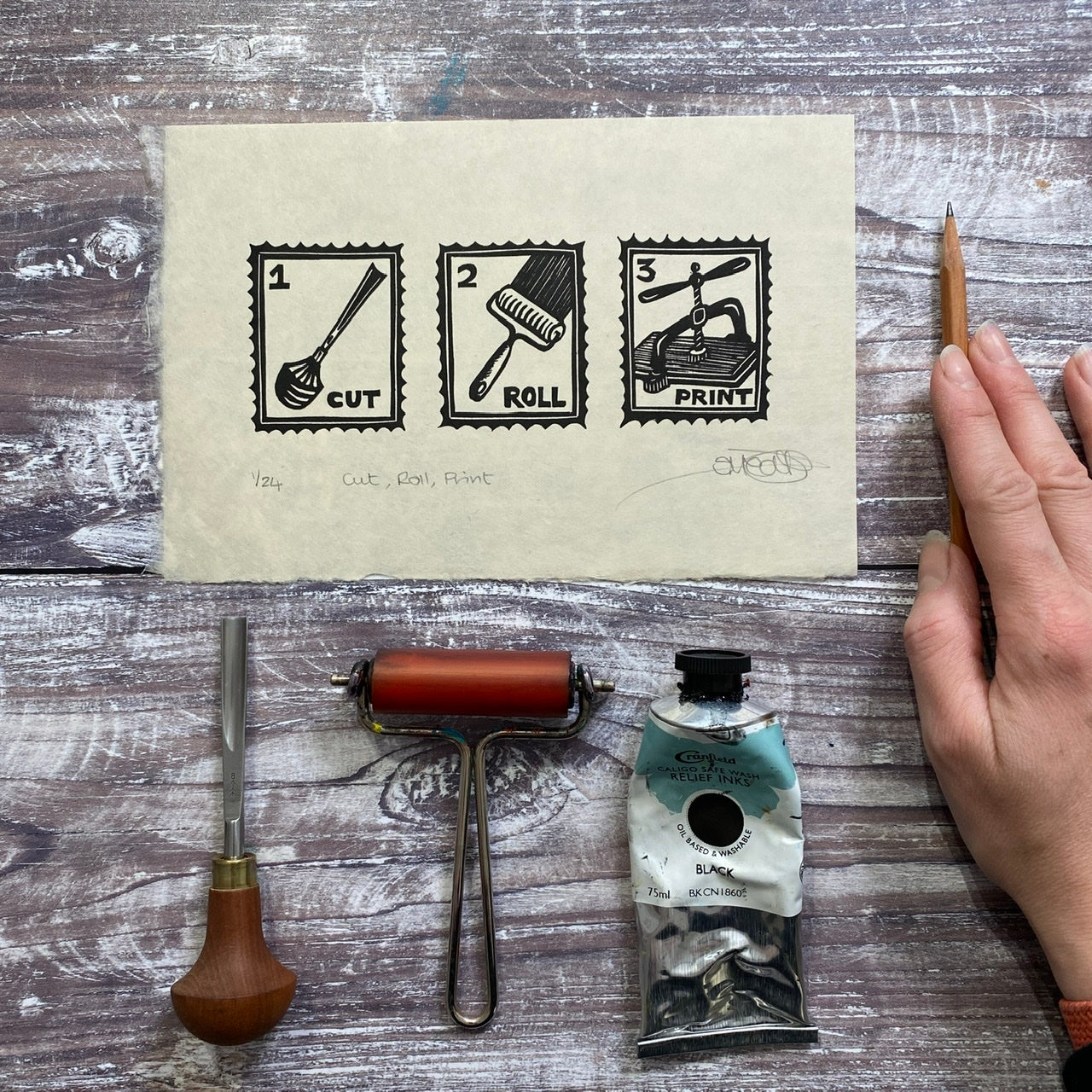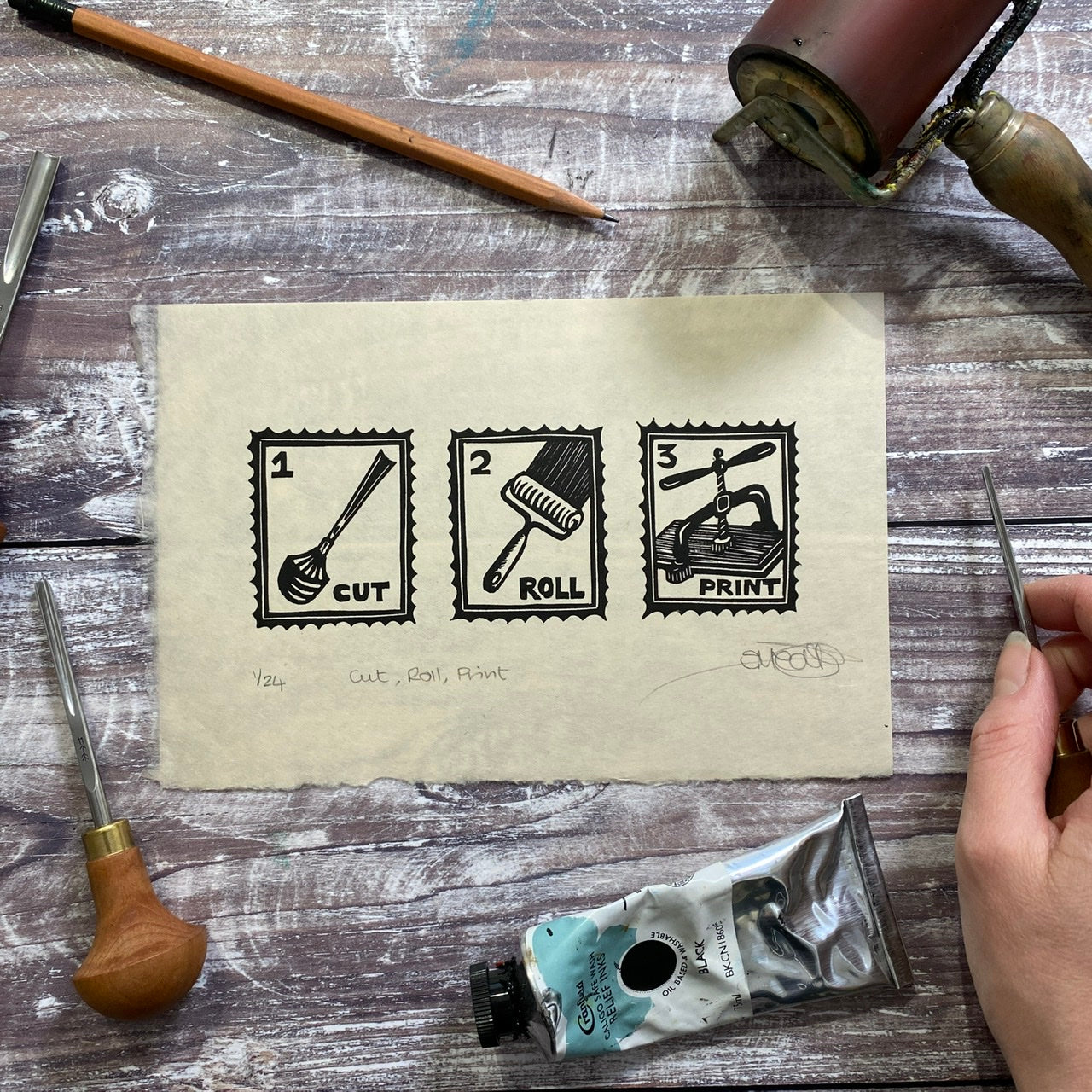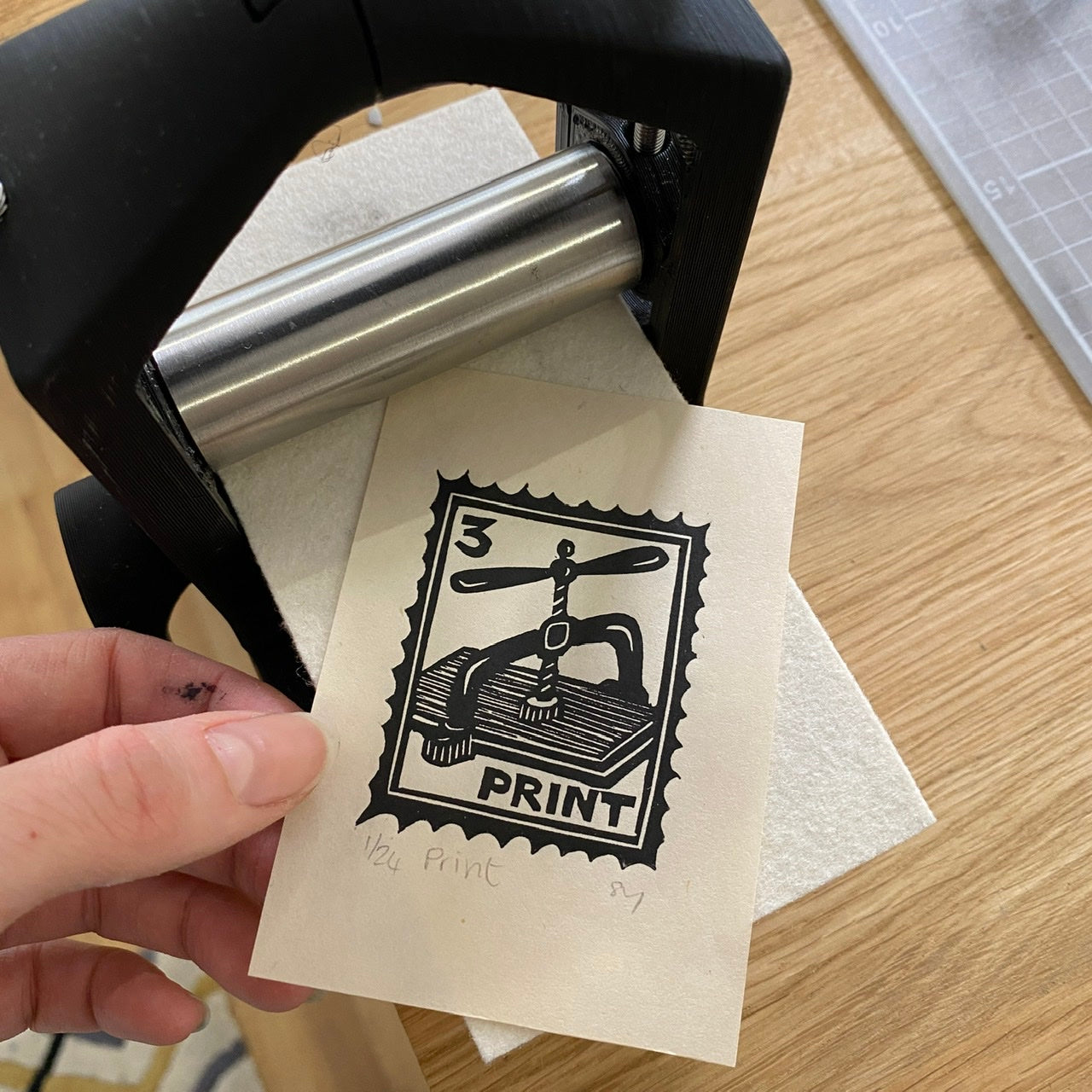 "Roll, Cut, Print"- The Full Stamp Collection of Linocuts (The Linocut Stamp Collection)
Welcome to the Linocut 'Stamp' Collection
A series of original linocut prints, celebrating the process of linocut printing by cataloging each stage of the process.
This print is a special edition of all three prints in this collection - No.1 - Cut, No.2 Roll and No. 3 - Print. This print shows all three mini linocut prints, printed side by side in black ink onto cream Japanese washi paper.
Each print is a mini linocut print, hand designed and carved to show a stage in the linocut process. Cutting the block, rolling out the ink and printing using a traditional relief printing press. 
Each print has been lovingly designed from an original pen and ink sketch, transferred to the block, carved out with care and then printed together using high quality relief printing ink (and my blue boy relief printing press!)  
Details 
Each mini print is approx 5 x 6cm in size. 
Paper size 14cm x 21cm.
Printed onto Kobo Natural Select Japanese printing paper. This is a creamy coloured high quality printing paper. Printed using black Caligo Safewash ink. 
These mini prints were printed by hand in my home studio using my mini 3-D printed press. 
Original hand-printed work in a limited edition of 24.
Each original print is signed by the artist, Susan Yeates.
More in the collection
Three more prints are also available in the series, i.e. These prints are also available as individual prints if you just wanted one mini print rather than all three. 
No.1 - Cut : an edition of 24 mini prints, black on cream paper 
No.2 - Roll : an edition of 24 mini prints, black on cream paper
No.3 - Print : an edition of 24 mini prints, black on cream paper
Delivery / Postage
This print will come with a board backing and wrapped in a compostable cellophane bag. Postage by Royal Mail, First Class Post. Delivery within 1-5 days.