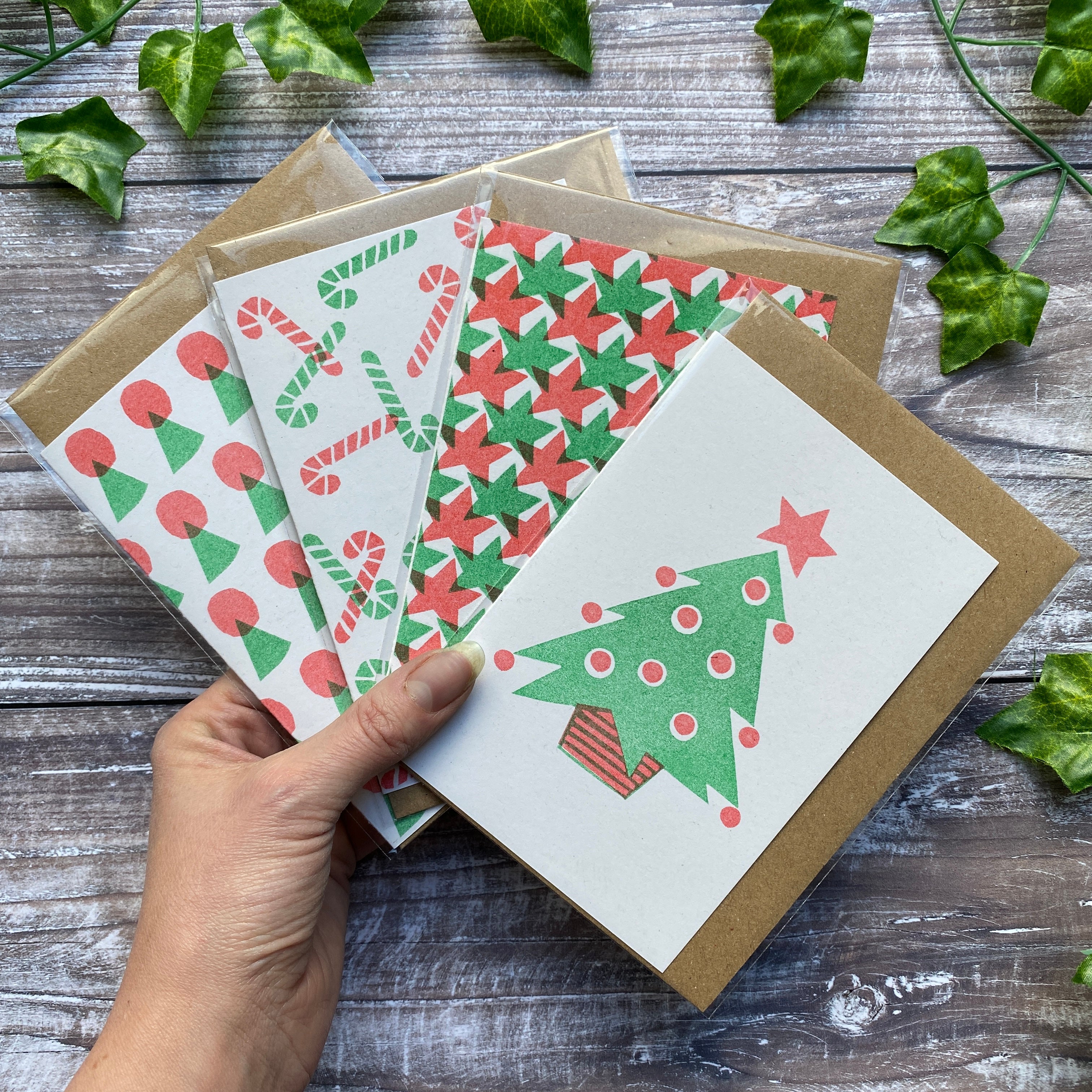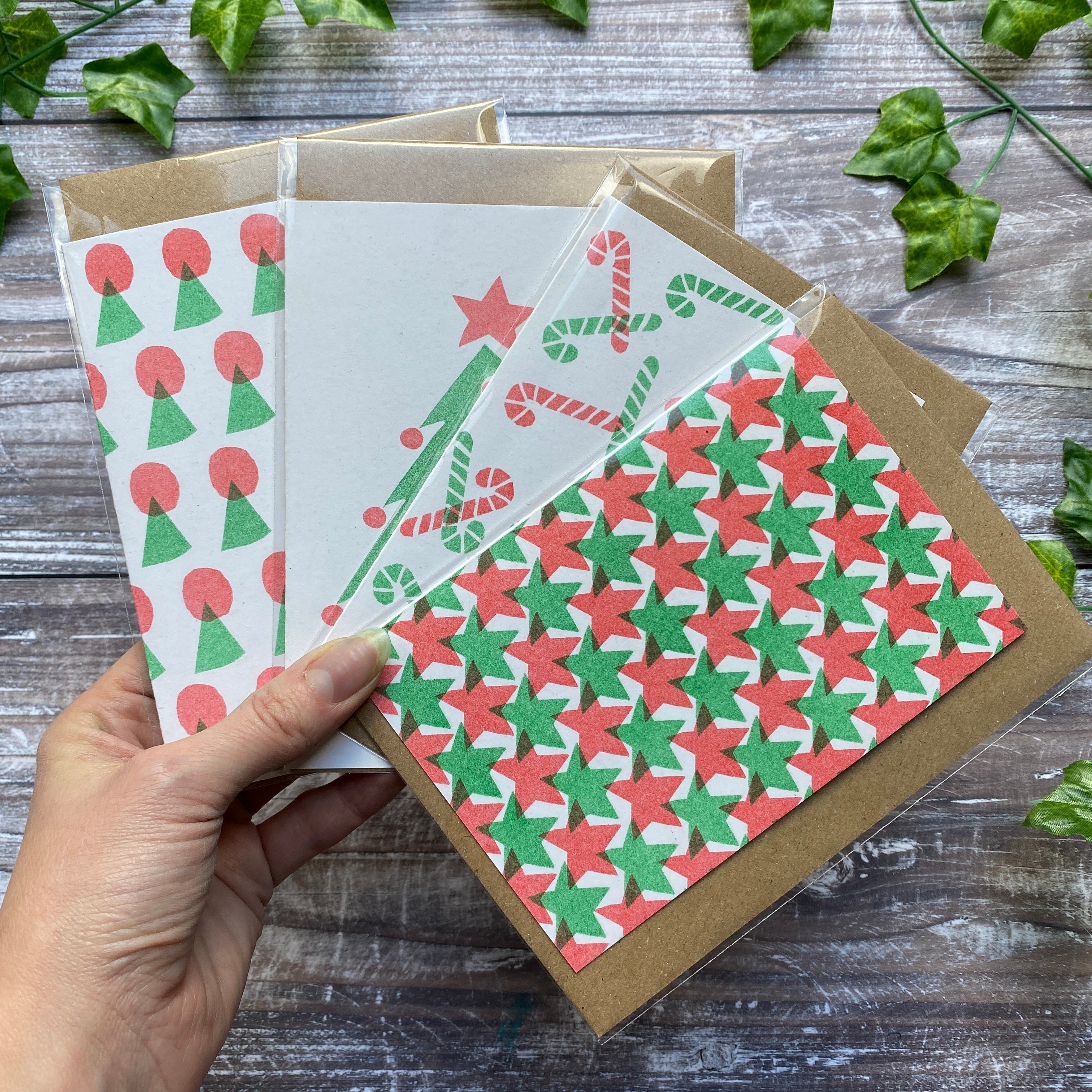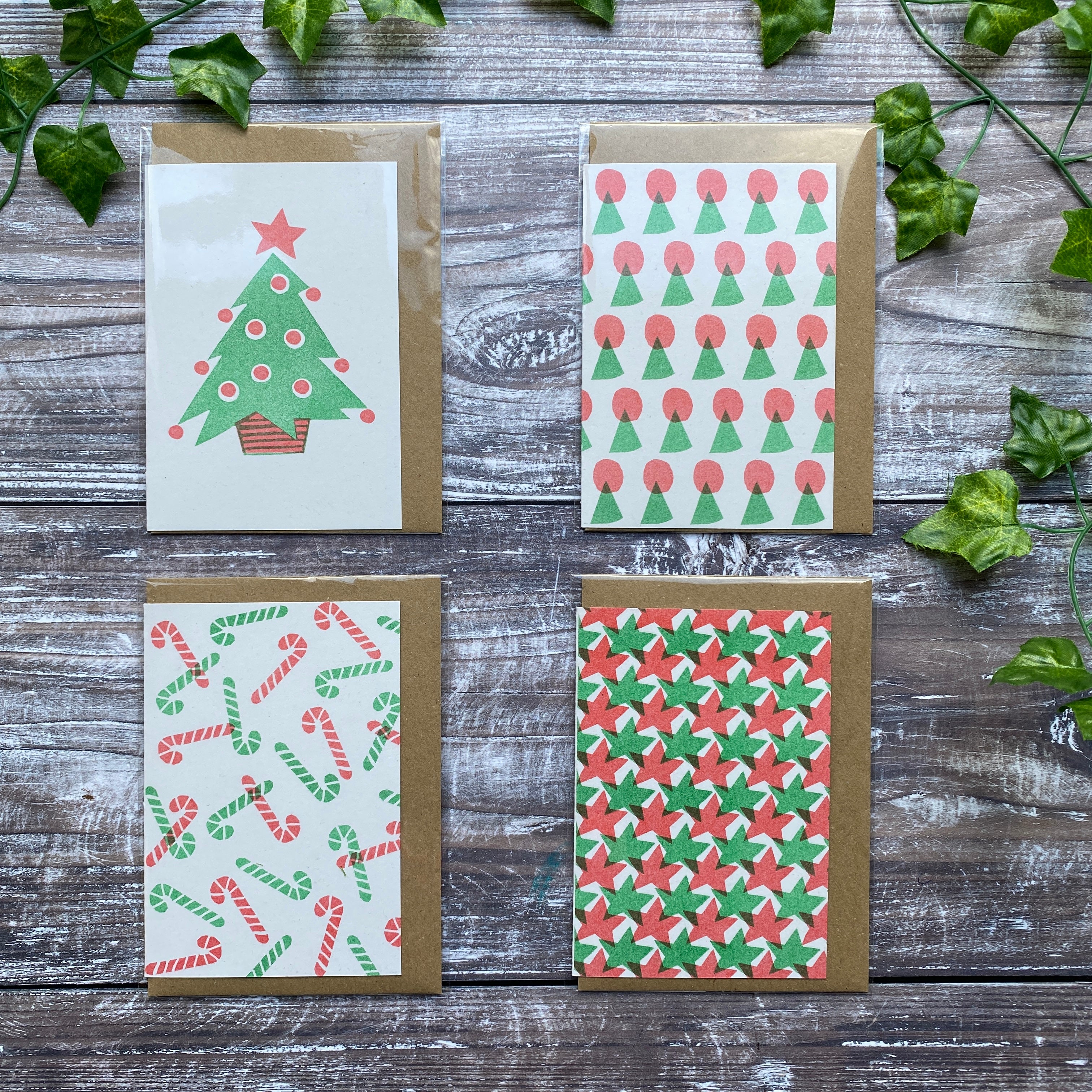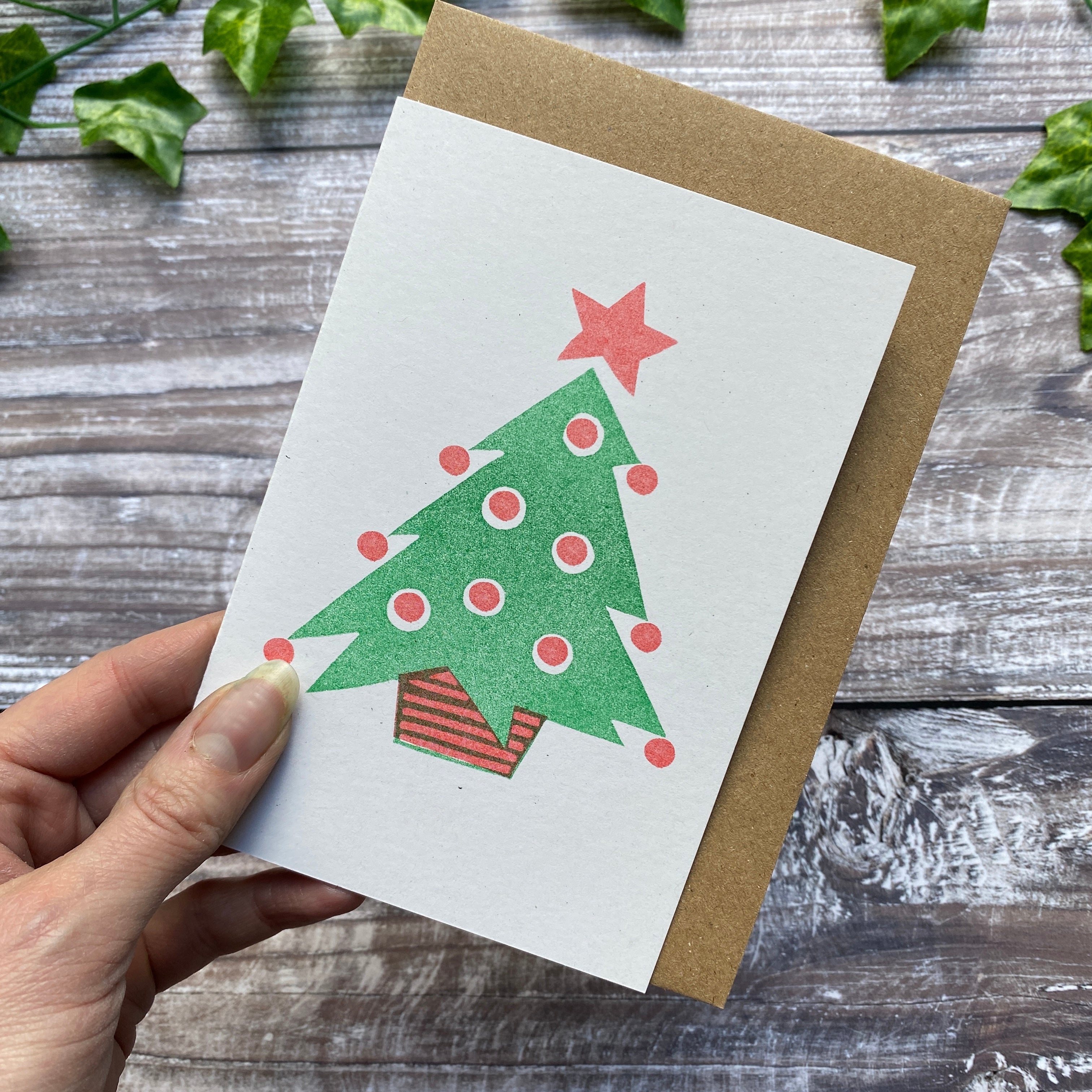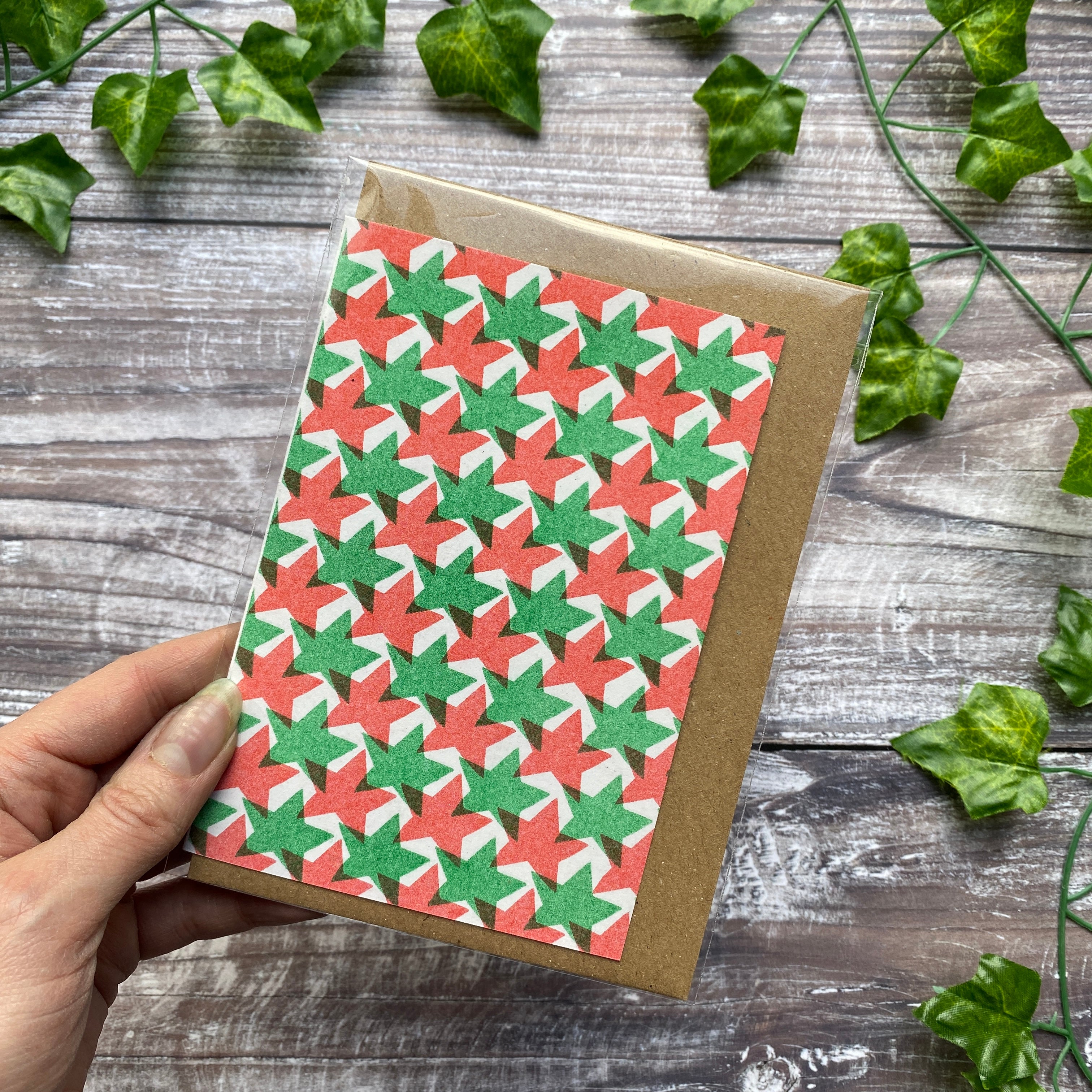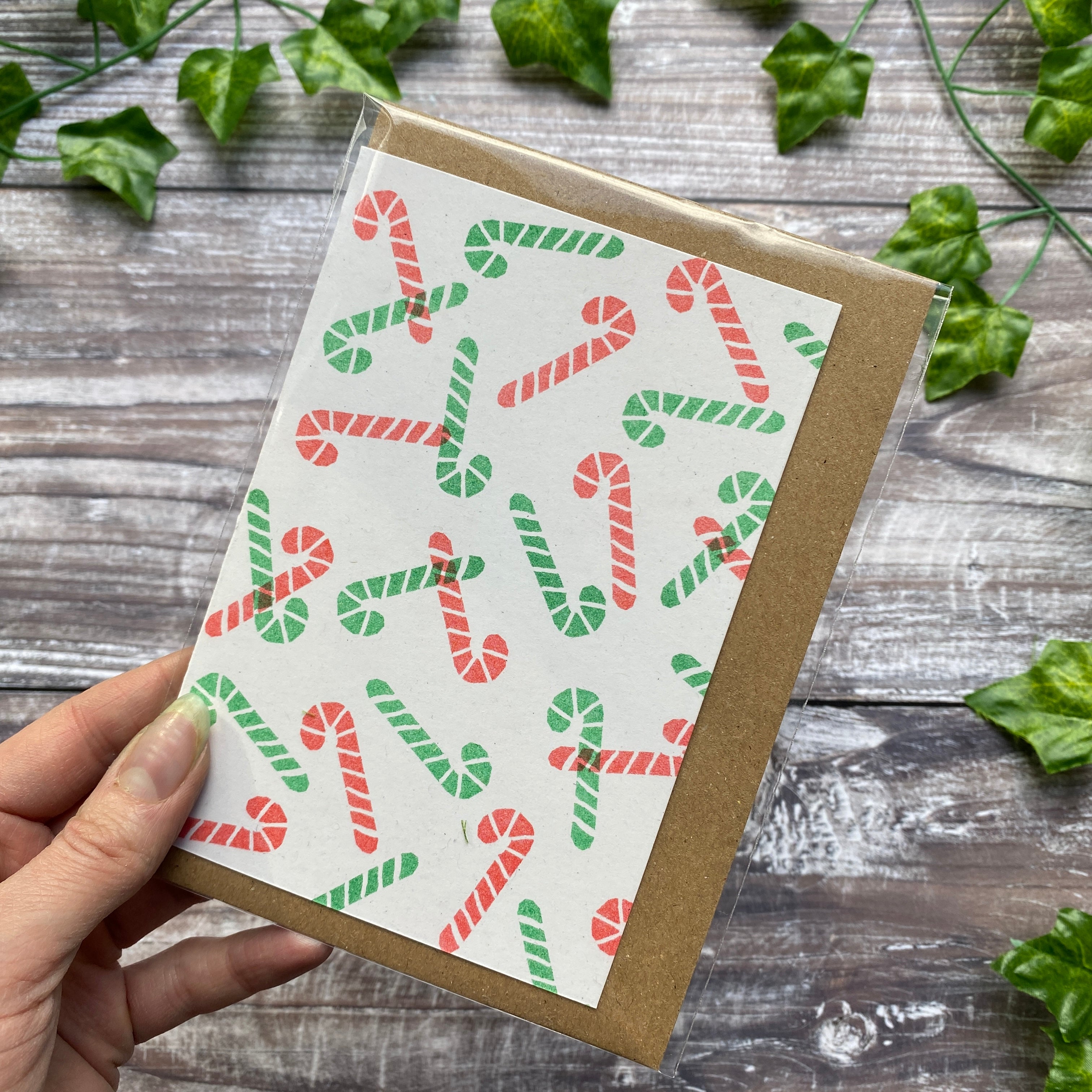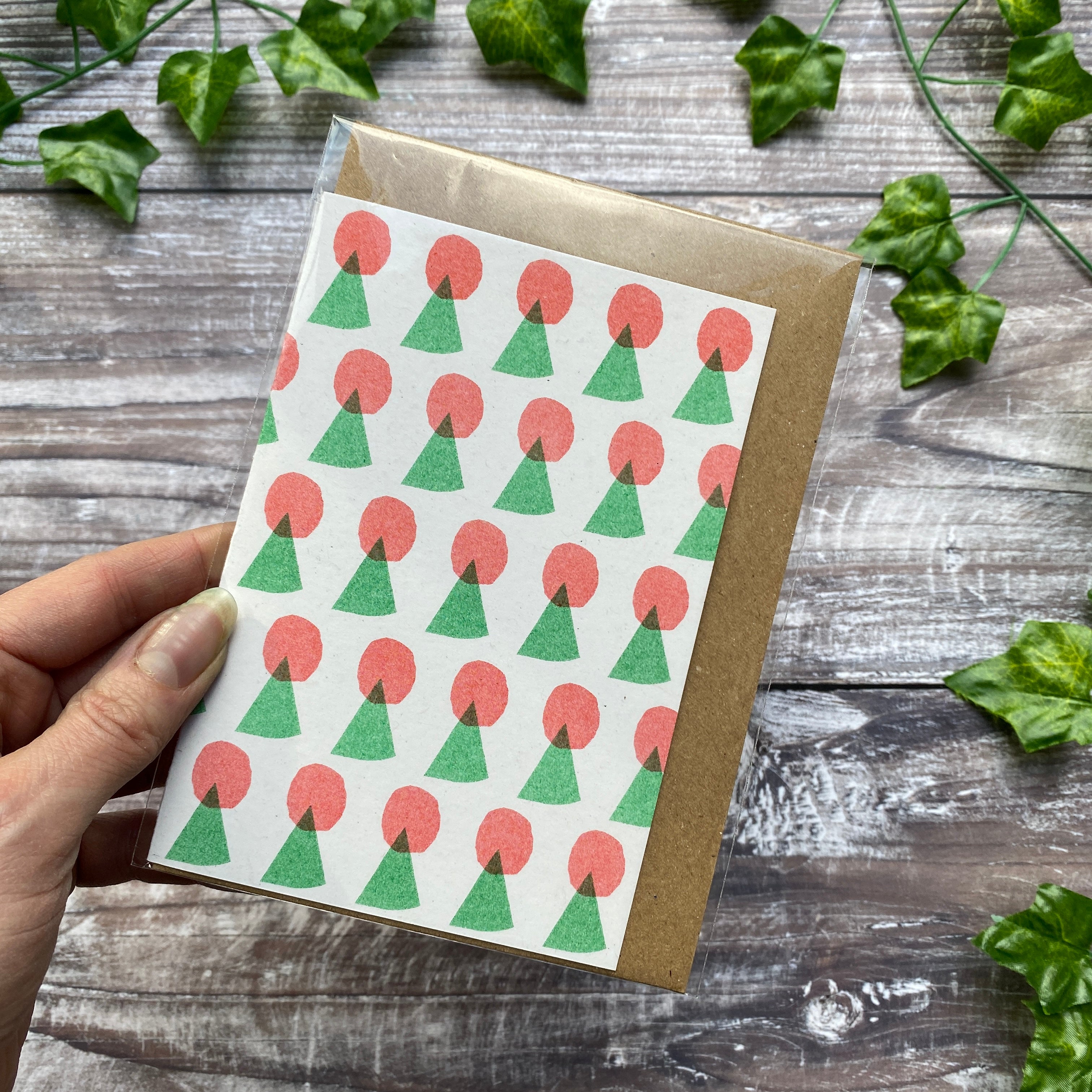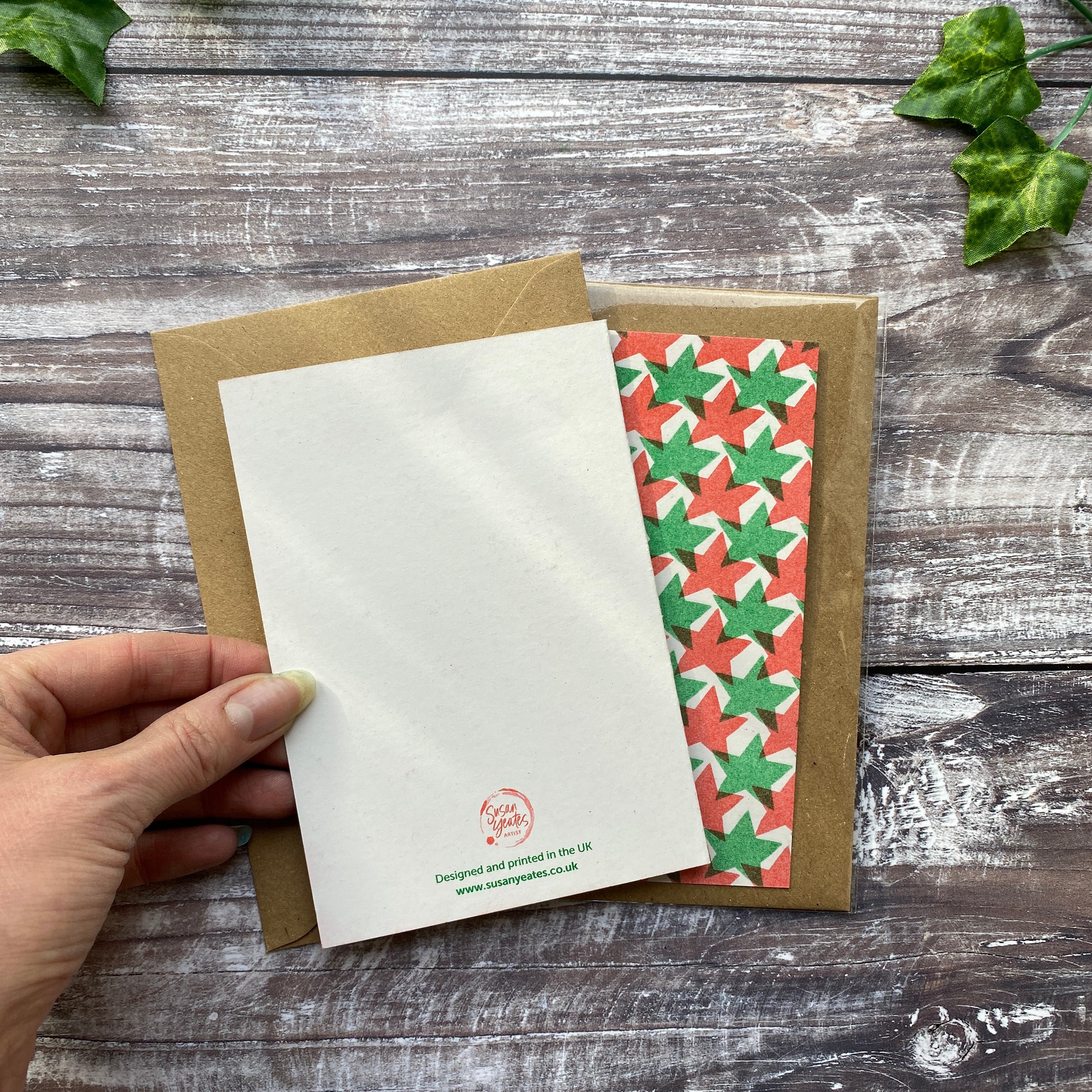 "Christmas Retro Vibes" - A6 Riso Printed Greetings Card Collection x 4
This item is for all four cards in the special "Retro Christmas Vibes" greetings card collection by artist and printmaker, Susan Yeates. 
This set of cards comes from original block prints and has a funky Christmas vibe. The cards are approximately A6 and riso printed in the UK in red and green soy-based inks. 
The following four designs are included (one of each):
Christmas Stars
Oh Christmas Tree
Abstract Christmas Trees
Scattered Candy Canes
Use them as notecards, Christmas cards or simply frame the fronts as little pieces of art for your walls.  
Details

Designed and printed in the UK onto 300gsm context natural recycled card using soy-based, non toxic inks.
Card size: Approximately A6 with a brown C6 kraft envelope. Each card is individually wrapped in a biodegradable cello wrapper. 
The card is blank inside. 
These cards were created original block prints that were hand carved and printed by Susan. The designs were sketched in pencil, transferred to rubber blocks, carved by hand and then printed onto paper. These have then been converted into Riso Printed cards by scanning, digital manipulation and printing using a specialist Risograph printer in the UK. 
These are only available direct from the artist - exclusive art cards by Susan Yeates. 
About the Collection "Retro Christmas Vibes"
This collection of greetings cards features original block printed elements layered up in green and red. The collection as a whole has a slightly retro vibe and the cards work as individual cards or as a 'stocking filler' when purchased as the whole collection of four. The full range has a star pattern, a large Christmas tree, some scattered candy canes and an abstract tree pattern. The "Retro Christmas Vibes" collection was created from a series of small block prints. The design for each block began as a simple pencil sketch that was transferred onto a rubber block ready for carving. Using u-shaped and v-shaped gouges Susan carved out the details by hand and then printed onto paper experimenting with colours, spacing and layering. Just four finished designs were selected from a whole range of patterns to turn in to high quality Riso Print greetings cards.  
What is Riso Print?
Risograph is an environmentally friendly method of printing using soy-based, non toxic inks. It blends elements of screenprinting and photocopying and each print will have its own small variations & individual look. It began in Japan in the 1980s by the Riso Kagaku Corporation and appeals to illustrators, graphic designers and printmakers (like myself) for its spot-colour print process, vibrant colours, quirky style and ability to layer colour. It works as a wonderful way to reproduce block prints and linocuts, whilst maintaining the look and feel of a hand carved block.
What is Block Print?
Block printing is a type of relief printing created by using a rubber block as the printing plate that you cut into using metal gouges. With relief printing, the material that is removed does not print, therefore making it a negative mark-making technique (as in it's a little back-to-front). Woodcut, wood engraving and linocut are also relief printing methods as is potato printing that you may have done as a kid or rubber stamping where you buy pre-cut stamps and ink pads from craft shops.
Curious? I teach a Block Printing for Beginners online course which you can access here: https://coursecraft.net/c/blockprinting